Do you want to convert your van into a mobile home? Are you worried about wasting space on unnecessary furniture? If so, we have some ideas to make the process easier for you.
Instagram is filled with cool van life posts that make the shift seem way easier than it actually is. They romanticize this lifestyle to the point of fiction with beautiful pictures of camping and scenery. They aren't lying, because when conversion vans are done right, they do tend to feel like that. So it is just that these people aren't telling you about all the effort it takes to get there.
While it can be super fun to live in a small moving space, it can also be quite tedious especially if you don't know how to do it correctly. For instance, without the proper storage space, you won't have enough clothes or food. Conversely, if you buy too many shelves and trunks, your things will bang into each other when the car starts and then break.
These worries lead you to making a huge mistake: over compensating and wasting area. You might buy too many or not enough things. Or you could end up unnecessarily using a lot of space for just one of them.
These 15 conversion hacks will help you avoid that and maximize space in your camper van.
15 Hacks To Maximize Space
Incorporate Clever Storage Throughout Your Van
Having decent storage is a big part of any home. It is especially important in van life because you have limited space and have to be clever.
There are different types of storage spaces including drawers, cupboards, pockets, etc. Drawers are better than cupboards because they're easier to organize and access. Pockets can be put up on walls and are great spaces to store small items like books, chargers, and phones.
When deciding what storage spaces to use, don't forget you're in a van and that vans move. Things will slide around. So try to use smaller containers. The items in them will have less room to move, which will keep them safe.
Utilize The Exterior Of The Van
There are plenty of exterior solutions for storing cargo. You can tie down your gear to the roof or either side of your van. Mounting your bike to the front can give you easy access to it. It will also free up space inside your van for other items that can't be hung outside.
Buy A Storable Bed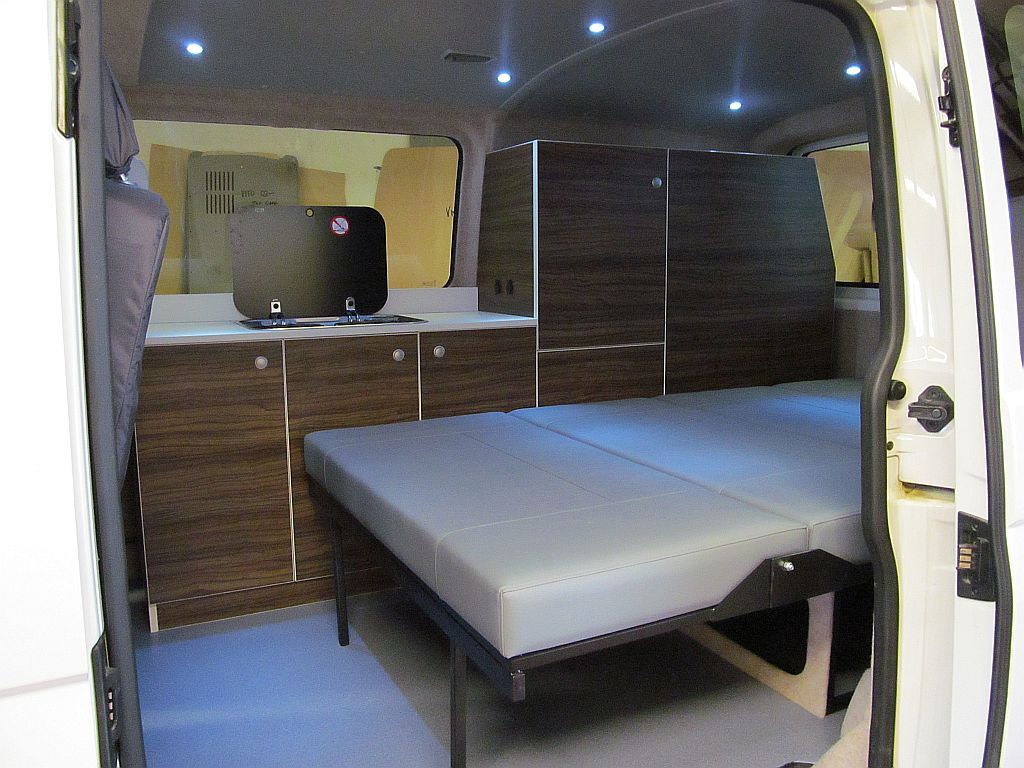 Beds take up a lot of space but they're an important part of our life. Therefore, one of the biggest struggles associated with camper conversion is finding the best one. Luckily for you, there's a new product making its rounds: storable beds.
These have electronic bases that retract up into the ceiling. It's the perfect middle ground between comfort and convenience. You get a cozy place to sleep in at night and plenty of space to move around during the day.
The only downsides are that these systems tend to be heavy and expensive.
Weigh up the pros and cons of buying one to decide if fits what you want your van life to look like.
Hang A Hammock 
Hang a hammock and increase sleeping space in your campervan.
Maximizing space in your van includes more than making the most of the area on the ground and walls. You also need to utilize air space. Hammocks are one of the most productive ways to do so.
They're super comfortable and can be set up to sleep, read, listen to music, or just about anything else you want. All you need is a hammock hook and cloth. Both can be stored and put away when not in use.
Sit On Folding Tables Outside Your Van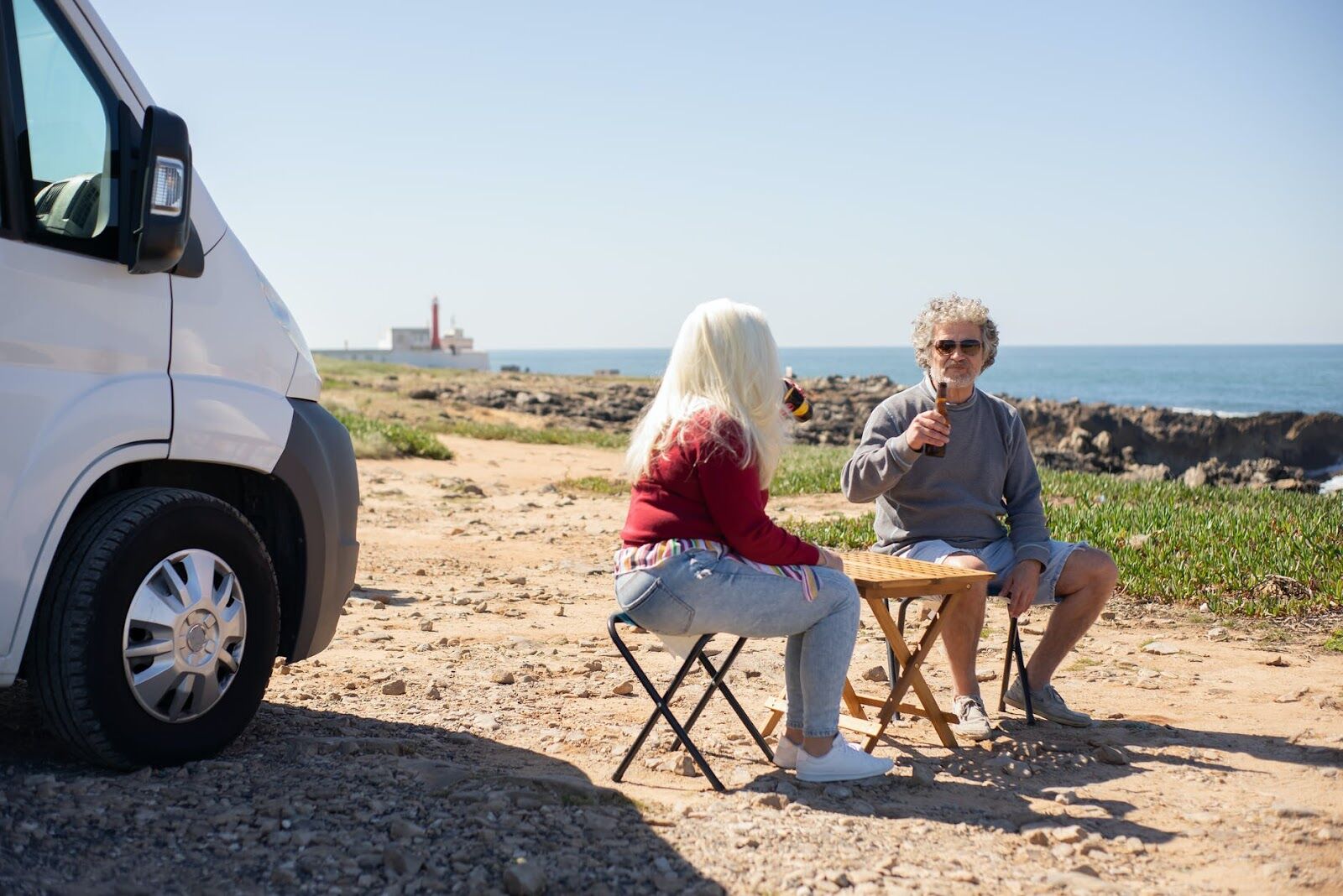 If you got interested in van life because of the mobility and freedom associated with it, consider using folding tables outside your van for food, reading, and other tasks. You won't need a table inside your van and can utilize the space for other functions.
When on the move, sit on your bed or chair for those tasks.
Solar Panels On Roof
Using the roof of your van for solar panels is an excellent way to maximize space. You get to use an underutilized surface and gain valuable output from it. Furthermore, you get endless power to charge all the devices and gadgets on your van.
This can greatly enhance your van life experience because you get to be completely independent of campsite plug-ins. You can spend several weeks on the road without having to stop for anything except food and fuel.
The food could be bypassed if you create smart storage and keep a large amount of non-perishable items with you.
Moreover, since you'll  have a supply of energy, you won't have to keep endless wires and cables with you. You'll only need the absolutely necessary ones. Additionally, power banks and electricity stores can be left at home.
Stay Clean With An Outdoor Shower
Don't waste space inside your camper van on a big bathroom and shower. Instead, attach a shower to the exterior of your van. The most common place to set it up in on the back door. However, you can also do it on the roof of your van.
There are several solar showers on the market. If you're getting solar panels, you should consider investing in one of these products.
Now, you may be thinking that having an outdoor shower is preposterous. There won't be any privacy and you'll expose yourself. These are valid concerns but that's the point of the van life.
You never stay in one place for too long, move around, and become one with your surroundings. However, if you're still concerned, you can buy a temporary wall separator and set it up while showering.
Moreover, if you don't want to mount a shower to your van, there are many portable options available that won't unnecessarily take up space in your van.
Either way, outdoor showering is definitely one of the best ways to maximize the area inside your van.
Bunk Beds For Kid
When travelling with children or in a group, you'll need more than one bed. The best way to get them without using too much space is by using bunk beds. They're a great space-saving solution in any house and work especially well in vans.
The only thing you need to be careful of is their weight holding capacity. Beds designed for children won't be able to accommodate adults. They might break.
Create Storage Under The Bed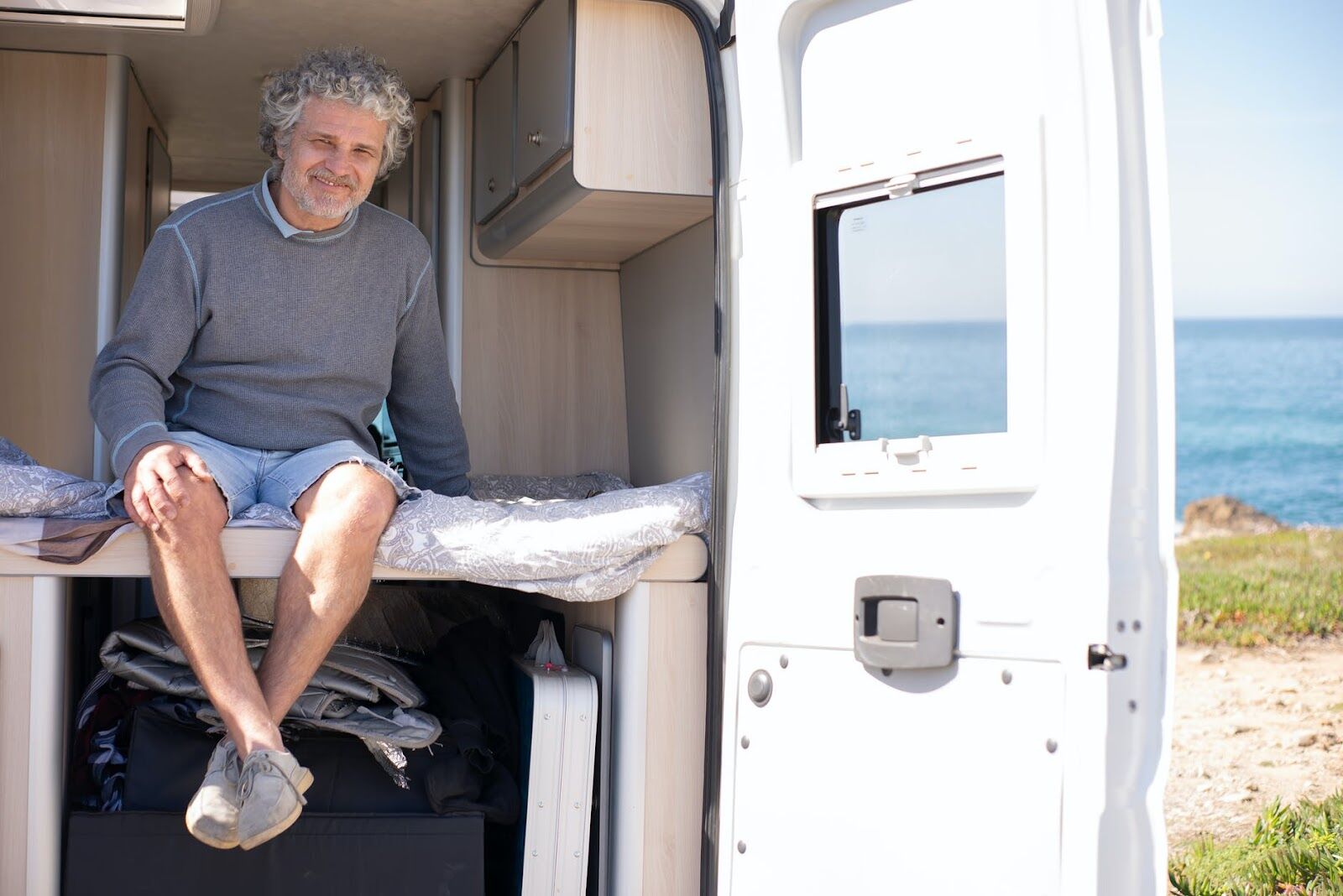 If you're including a fixed bed in your van build, you should consider using the space under it for storage. You can either store larger items like bikes and musical instruments directly by just placing them there or build drawers for personal items like clothes and books. 
Both options will maximize space in your camper van.
Build Instead Of Buying
A DIY van will always be more space-efficient than a mass-produced version. This is because you know what you need, whereas a corporation doesn't. Their products are designed to fit the masses.
Therefore, they can't customize their goods and we all know the best van is personalized to its user. They don't meet a vital requirement, which makes their merchandise inadequate.
When you're working on a DIY camper van conversion, think about each feature before adding it. How many storage shelves do you need? How big does each one need to be? What types of items do you have to store? Are they just basic everyday objects or is it also stuff like bicycles?
Draw up a list of your requirements. Think about everything you want and design a layout before starting on your campervan conversion.
If you don't know where to begin, start by designing storage, sleeping, cooking, and washing spaces. Then build from there.
Use Multi-Purpose Surfaces
An office table can be used as a dining table. When you think about it, a shelf can be used as a dining table too. You really just need a flat slab to put your plate on. Under that principle, any flat surface works.
Van life is all about knowing how to make the most out of each piece of furniture in your living space. So when you're designing it, try to include objects that can be used for several things. Instead of carrying around a huge table, get a shelf and stool.
You can use the top to work and study on, whereas you can use the bottom as storage space with cupboards and drawers.
You need to be able to look at a window and see more than just the trees outside. Train your mind to think about things like if you can attach a shelf to it or if the curtain rod can be used to hang personal items.
These are just some ideas. Look at the space around you to see if any of them work in your context. If not, try to think of ways to include the principle of multi-purpose on your own.
The minds behind the best van conversions approach their surroundings this way and you must do the same.
Turn Around The Van's Driving Seats
Enable one or both of the front seats to spin around and give yourself extra seating space. You won't need to build one in the back and will lengthen your living area.
Tie it all together by adding beautiful seat covers that match the interior of your van.
Plan Van Build Around Tables For Eating And Working
Tables for sitting at are usually an afterthought when designing a van's layout. People tend to forget about them even though they're needed for every task from eating to playing card games to working.
This leads to misplaced furniture, minimal optimization, and a lot of wasted space. If you plan around the table, you can include comfortable sofas there and remove the need for more seating. Alternatively, you could design storage under the seats and avoid having to build further cupboards and drawers.
To put it simply, when you're planning to spend a long time on the road or living in a van full time, having a decent table is important. Try to build around it, and you'll maximize the space in your vehicle.
Double Your Space With A Roof Deck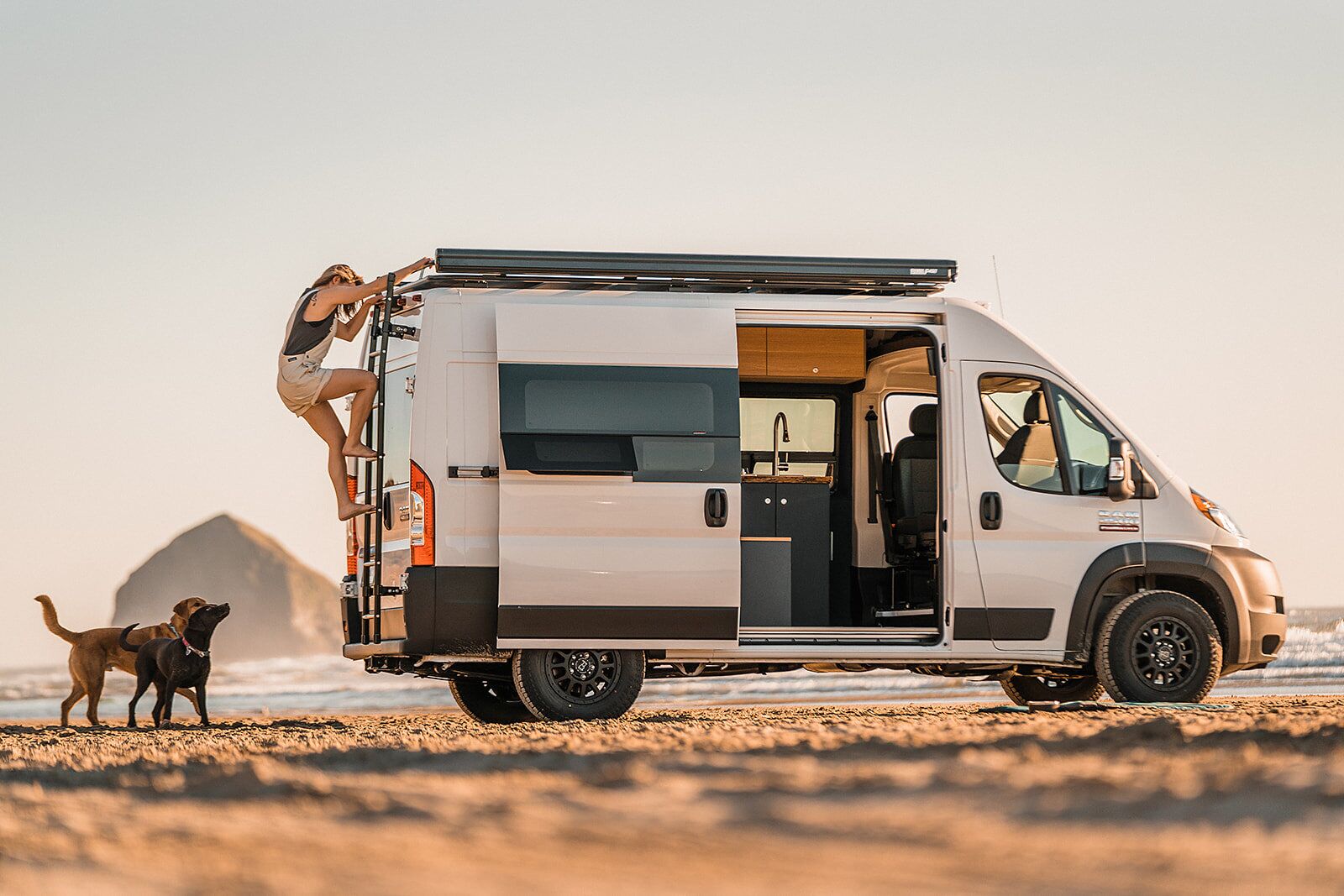 Attach a ladder to the side of your van and mount a decking area to the roof. You'll get extra storage space and an extra place to relax and look at the stars.
Extendable Kitchen For Outdoor Cooking
If you're travelling in a city or country with a warm and dry climate, extendable kitchens are excellent space savers. Design your van build in a way that the kitchen slides out of your side door or back door. It will allow for more room in your van for other things.
Add an awning above to protect against the rain.
Additionally, outdoor kitchens are great for socialising and building a community when compared to cooking inside a van.
The Benefits Of Having A Conversion Van
Van life is great for a number of reasons including access to nomadic lifestyle, significant mobility, and easy travel. Additionally, when compared to an RV or trailer, conversion vans tend to be less expensive.
These vehicles have great fuel mileage and offer better value for money when going on a trip. You can go further on 1 gallon of gas on it than you would be able to on a full-sized SUV.
Lastly, when planned well, vans are spacious. They offer an excellent alternative to cramped cars by offering you space to move around in, comfortable beds to sleep on, and sometimes even kitchens.
Wrap Up
Use the van conversion ideas we've given you and get started on your motorhome journey. Remember to design your vehicle according to your requirements. You might see an article telling you to get a particular shelf for storage. It could be an ingenious product but you should only buy it if it will hold all your belongings. Don't get it if its too big or not big enough for you.
Apply the same logic to everything else you add to your van build and the end product will speak for itself.