Camping can be a great experience for all concerned, however you will need to make sure you're as comfortable as possible during your trip. With this in mind, it is a great idea to think carefully about the kind of bed you'd like to use as a part of your campervan setup. There are lots of different options open to you, giving you the chance to weigh up the pros and cons of each one. So, we have put together some great examples – some of which you can buy, and some that require you to get a little bit more creative. No matter which you prefer, you're sure to see something that you love.
The platform bed is designed to be fixed in place, with storage space underneath. It can be created by purchasing pre-made slats, which are then placed over the sides of the bed space, to support the mattress that you choose to have in place.
There are a few plus points to this option. Firstly, having a fixed setup means that you don't have to make your bed every night, and this can be great if you know you're going to be tired from all of the activities you take part in. On the other hand, though, if your space is hugely limited in the van, you could find that a fixed bed takes away far too much space. A slight plus point to this is the storage that you can get underneath – which gives you somewhere to keep all of the cool camping gadgets you want to bring with you.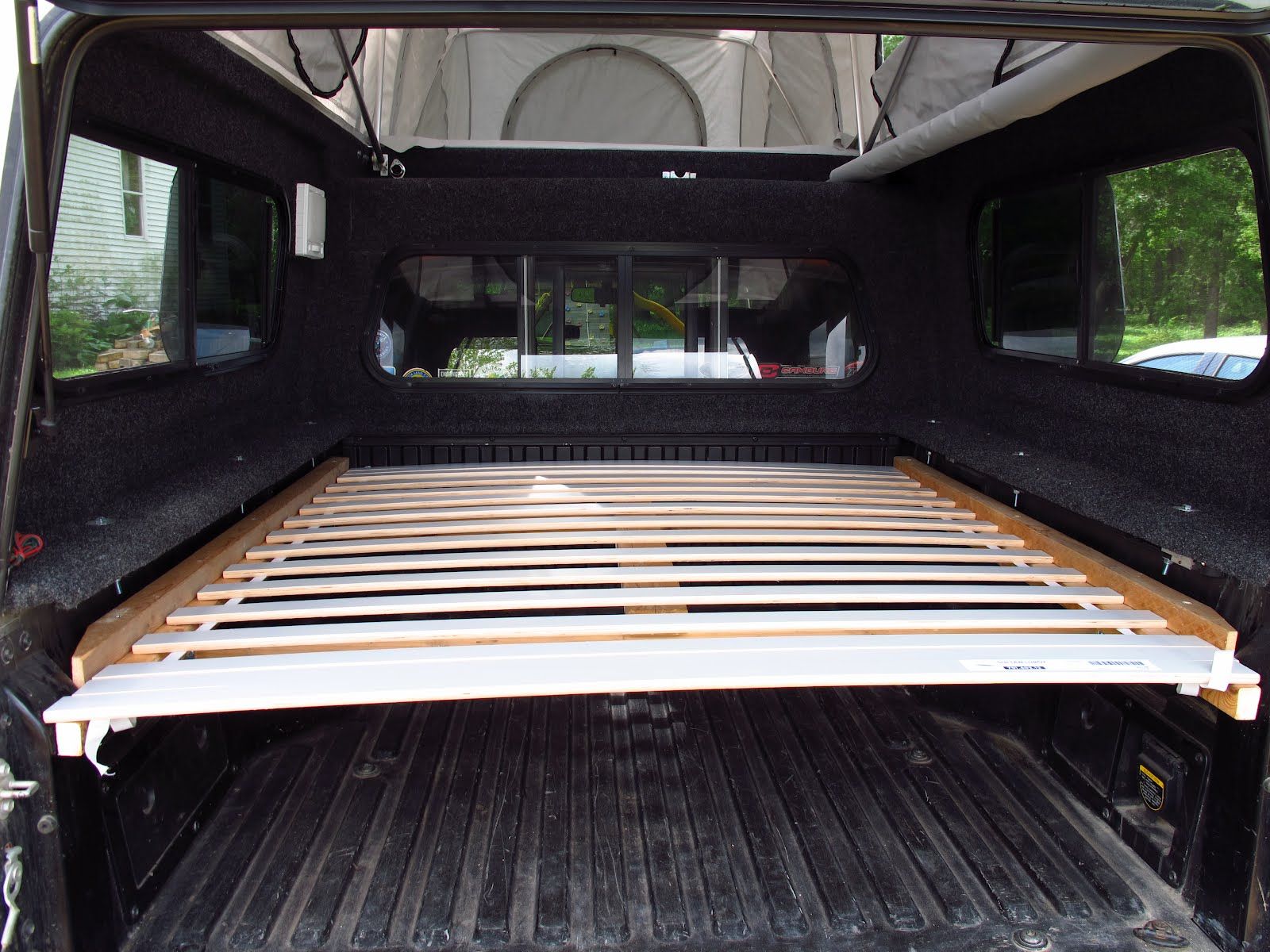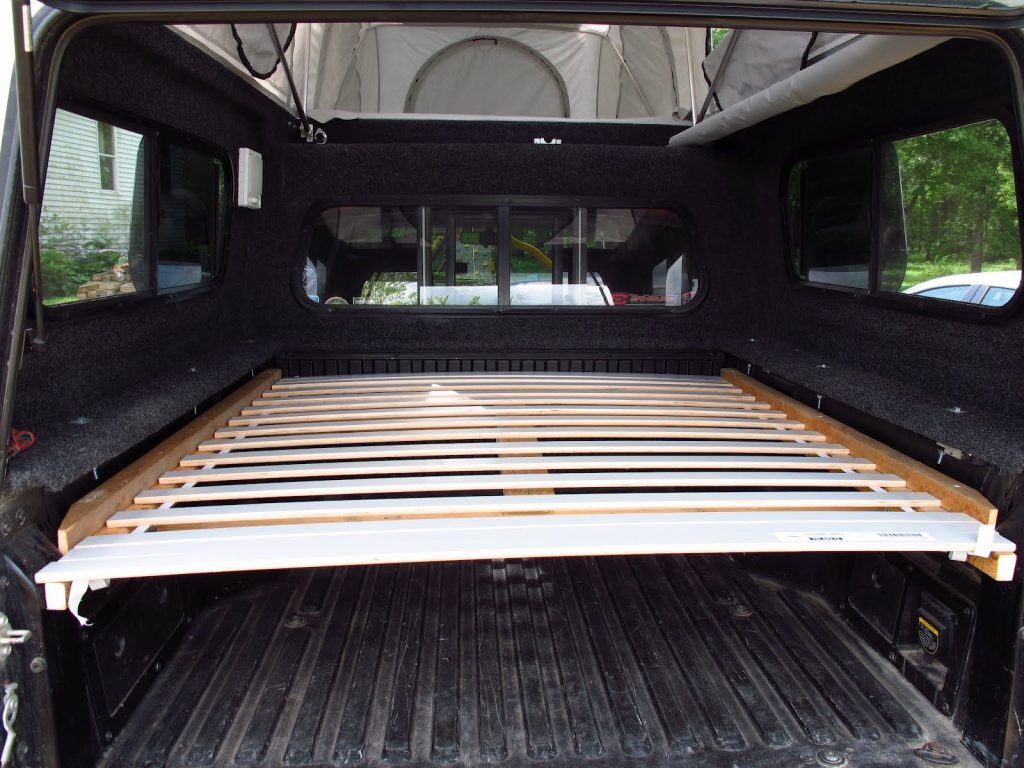 You will most likely have seen this design many times before, as it is a common choice in modern campervans. The overcab bed can be great if you're just looking for a ready-made bed, as it means that you don't have to set it up every night. The space can also be used for anything lightweight that needs to be kept safe during travelling, so this storage room can be handy when it's not being used as a bed.
Although the downsides to this setup are few and far between, some people feel that the overcab setup isn't aesthetically pleasing from the outside of the van – though it's up to you whether this is something you're concerned about. In addition, although it could be a great choice for kids, larger adults might have difficulty, as it isn't the most spacious of options.
The Rock 'n' Roll Hinge Bed
If you only have a small amount of space available to you in your van, being able to use that space for multiple things could be a great plus point. With a rock 'n' roll hinge bed, that's exactly what you're able to do. This bed is hugely popular, mainly due to the fact that it can be converted from a sofa to a bed, and vice versa, in less than a minute. These beds also provide a little storage, and you don't have to worry about removing the cushions. Versatility is key with this option, as you can choose to use it as a sofa, or open it up double or triple fold as a bed, depending on how many people are going to be sleeping there, and how much spare space you have.
However, as campervan bed choices go, this is one of the pricier options. If money is no object then it could be a great choice, however it might not be the best for you if you're trying to create your dream campervan on a budget. In addition, if you open the bed up as a double fold rather than the full triple fold, you may find that there is a gap against the wall, which could mean you need to find something to fill it – such as a cushion or a pillow – while you sleep.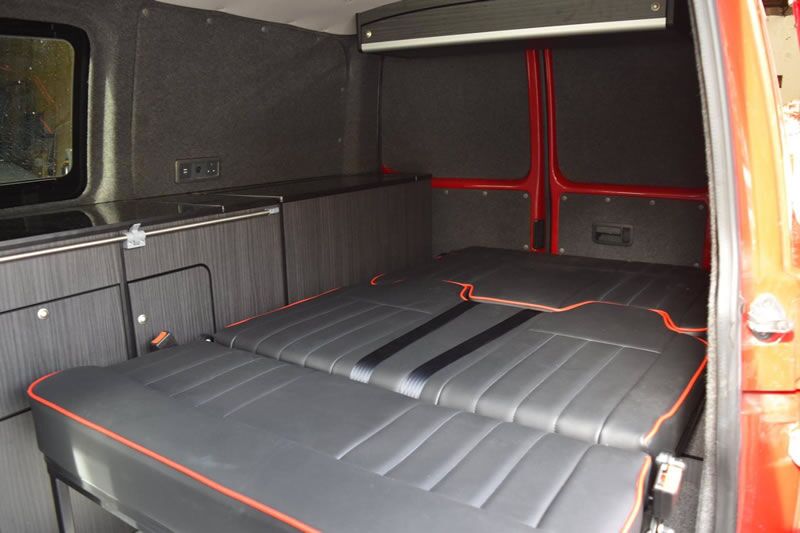 As mentioned above, being able to use the same space in a number of ways is a huge plus point when you're camping, and the drop-down table bed is a great example of this. With this design, you simply use it as a seating area during the day, and then lower the table in the evening, moving the back cushions to the middle to create a complete bed.
This can be a great choice if you only have one main space in your campervan, as it means that you can simply convert it to the space that you need at that time. However, if there are multiple people using the van, some of whom may wish to use the seating area while others want to sleep, this might not work for you – as obviously you can only choose to have one or the other. As options go, though, this is probably one of the cheapest that you could find, and it is certainly effective.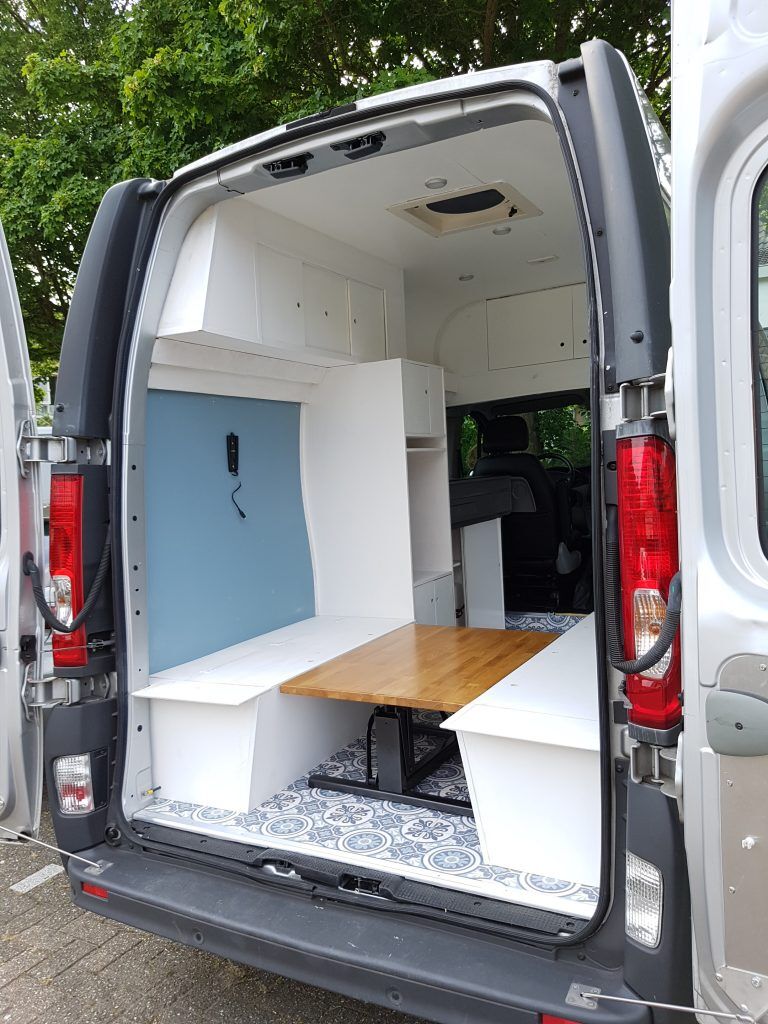 This is a relatively uncommon choice for campers – but that doesn't mean it can't be a great one. This option is something you could even have a go at building yourself if you're into DIY, and it simply involves a mattress in a wooden base, which can be pushed up and secured against the wall when not in use.
One of the best things about this is of course the fact that you can completely get the bed out of the way when it's not being used. In addition, this leaves a huge amount of space in the back of your van, giving you much more scope to fit in anything you could possibly want to take with you. Of course, there are lots of things that will be left outside once you're at your destination, so this extra space while travelling can be great. However, this is only an option if your van design will allow for it. In addition, you will need to have some solid DIY skills – or the funds to pay somebody to create this design for you.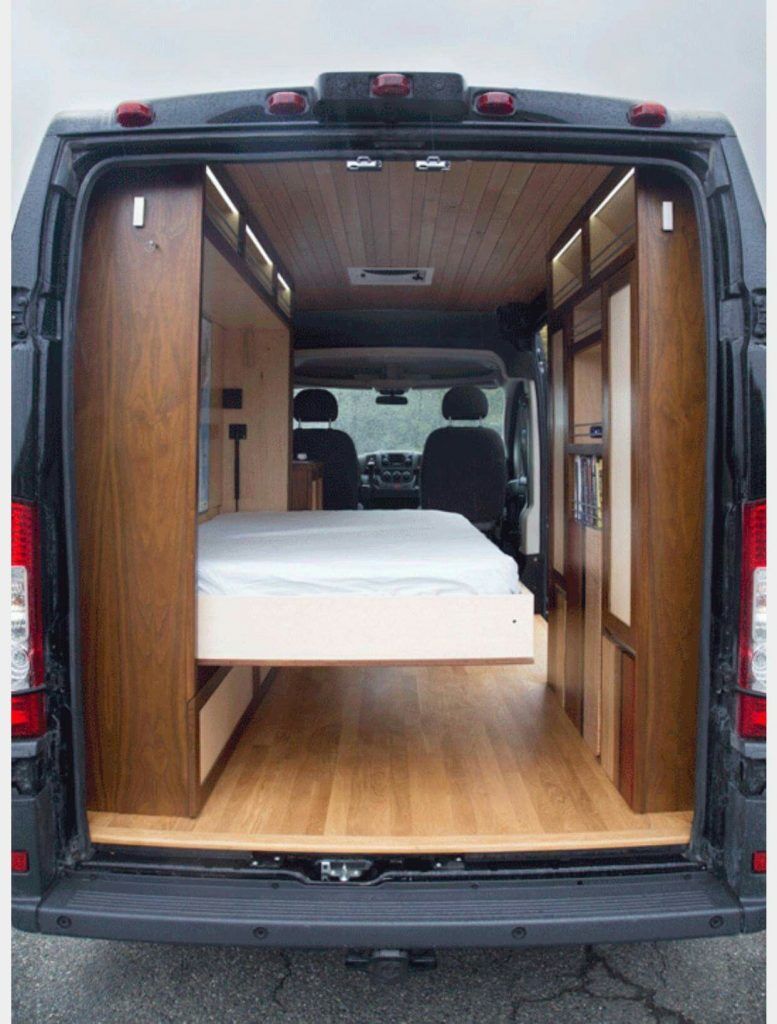 If you're all about ease when it comes to camping, like many people are, then the French bed layout could be one of the best options for you. This is a fixed bed option, usually at one end of your van, laid lengthways against the wall. It is often placed on the other side to a washroom, making one end of your van look pretty much like an en-suite bedroom, with your living space at the other end of the van.
There are obvious plus points to this – the main one being that you have a beautiful, private sleeping area near your washroom, that doesn't require any effort to be set up on a daily basis. This means that you can simply focus on enjoying your camping break without thinking about the work that will face you each evening after an enjoyable day.
However, not everyone can put up with the fact that these beds take up so much space all the time. If your van space is limited, you may not want this – and, typically, vans that come with this layout pre-installed tend to be more expensive than other options, as they need to be quite a bit bigger to accommodate the various spaces within the van, meaning that you might decide that despite the convenience, it isn't quite what you were hoping for when you weigh up the pros and cons.