Hello, we are Tom and Isabel (A.K.A. Lost in Transit) and we are currently traveling around Europe in our beautiful van La Bamba. Feel free to check out our Instagram or Youtube!
We have always known we did not want "proper" jobs and so we would often scheme on weekends and evenings after work about how we could escape the rat race. We had looked at buying a tiny home and a bit of land for a while as we slowly saved up money. The decision to instead buy a van was made very much by Isabel. In fact, Tom was getting off a plane to Estonia when he got the call "I just bought a van!"
This spontaneous decision was a blessing, we were both already seasoned travellers, were used to living in a tiny space (we had lived together in a bell tent in Scotland for 6 months) and are not ready to settle down to sow a veg patch just yet, so the van ticked all the boxes!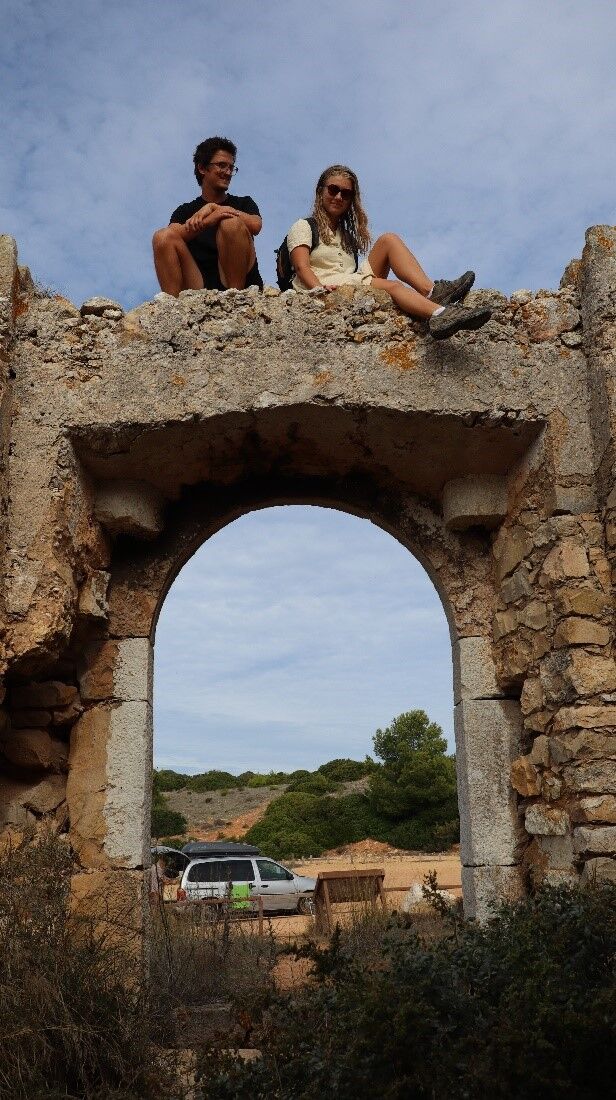 Our van is a long wheel base, high top Ford Transit. We don't meet many other people traveling in them, maybe it doesn't have the street cred of a Mercedes or VW, but we think it's an ace van and has never caused us any problems.
We bought our van on GumTree from a couple who were already living in it (see image below). We spent around £7000, which we now think was a bit steep for a van this old, but she is in good condition, had very few miles on the clock due to her colourful past as a dog grooming van and was already semi converted (most of which we actually ended up ripping out).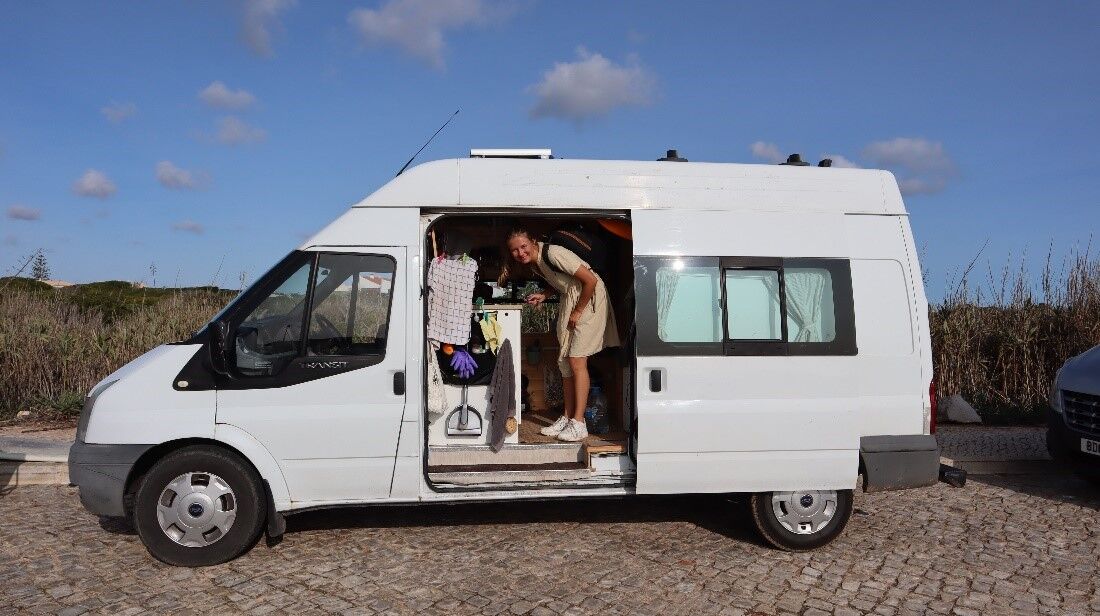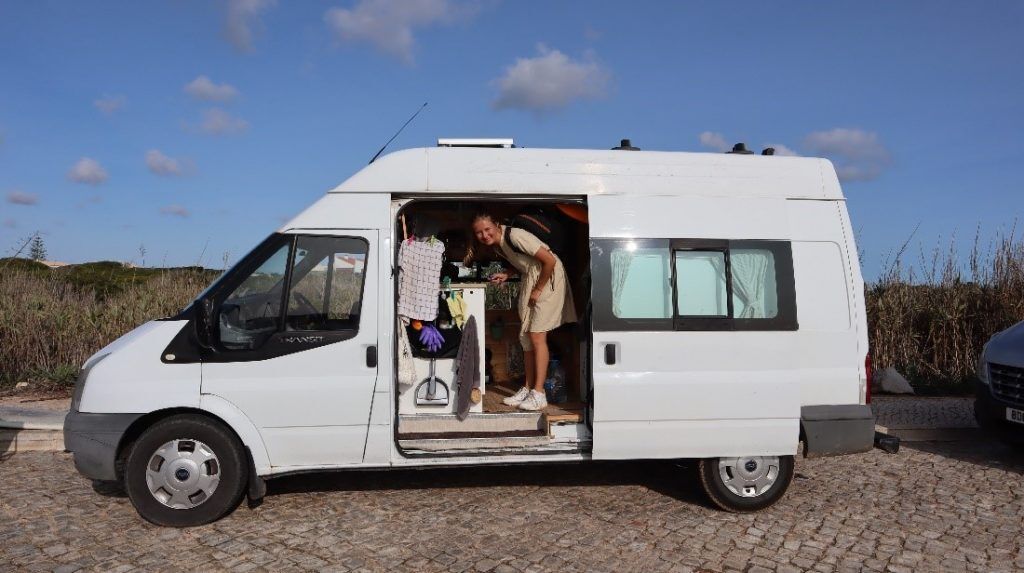 So, as we mentioned the van was already partly converted, however, it had been done on a very tight budget and when Tom returned from his holiday in Estonia he proceeded to gut the van. We took it all the way back to the insulation. From the original build, only a solar panel and the insulation remain. My advice to you would be to buy a finished van or to build a van from scratch as this turned out to be a lot more work.
Designing the van was a very organic process and evolved as we worked. We wanted the van to be as spacious as we could so we went for a sliding bed, we have never looked back on this decision. While doing the build we were living in a cottage in Cornwall and we want to keep some of the coziness we loved so much from there. We decided to stick with lots of natural wood, and the tiles in the kitchen were a must.
We were still working while converting the van, and so would spend evenings watching how-to YouTube videos and our weekends cutting wood, doing wiring, and laying flooring. We found an old drill in Isabel's mum's cellar gathering dust and splashed out on the cheapest jigsaw we could find. This was our full arsenal of tools! We were too tight to buy any more and as time went on it became a matter of principle, we didn't even have a set square or a straight edge. In retrospect, I wish we had invested in some good tools, and if we ever convert another, we definitely will. Due to the lack of tools, we had to rely on some flat-pack cabinetry, the kitchen unit and the fold up tables were off the shelf from IKEA and work really well.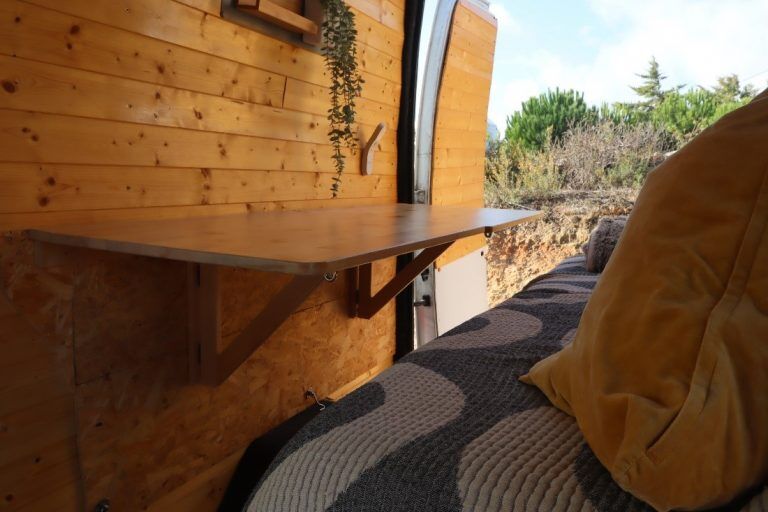 The hardest part of the build was the electrical system, hands down. Going into the build with an A-level in physics, I was quietly confident, however, we had never talked about gauges of wire, the benefits of AGM batteries over lead acid, or how many solar panels we would need to power our trip.
We did all the work ourself (with some muscle donated by Isabel's younger brothers). This was cheaper, provided a rich learning experience and if anything goes wrong (which it does) I know how I bodged it together in the first place. I think if a professional tradesman looked closely at what we had done they would find it very funny (or in the case of the electrician, downright scary).
We have been living in our van now for three months and Isabel is still finding changes that need to be made to the van that keeps Tom very busy. Secretly he quite likes the jobs, but don't tell Isabel that.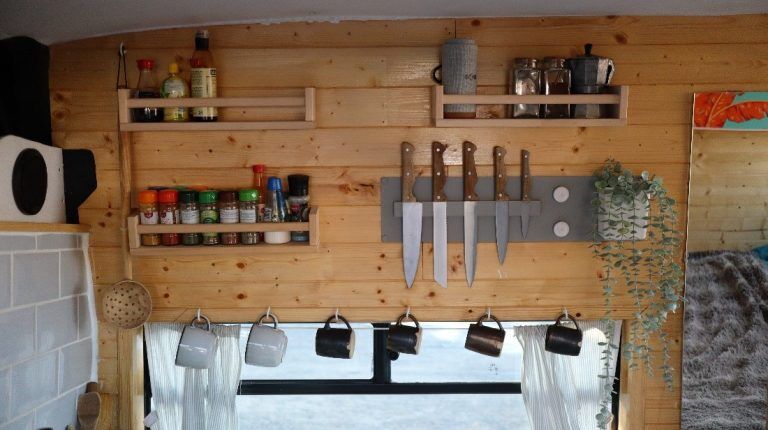 When we moved into the van, we had to down size. We already lived fairly minimally and so planned to have little storage, but when it was time to move in, we realised how little we had. It was a big shock at first but we have grown used to it, and like that picture of a cat in a bowl, I believe we would eventually fill whatever space we had available and not necessarily with useful stuff. Although we may add storage in the future, at the moment we can just enjoy our compulsory minimalism.
Before setting out into the big wide world we were able to scrape together a modest sum of money, and for now we are able to travel without working. This is a luxury and we are relishing this time, however we do know this will eventually come to an end. We have looked into teaching online or maybe doing a ski season, but for now it's just enjoying it.
When we started our journey, we hit the ground running. We would cover a lot of distance and stay in an amazing location, be up early and off to find a new sun set. As we have matured into the rhythm of life on go, we have slowed down. We stay places for longer and travel less far between park ups. We plod around the wilds with our tiny home. Our spirit animal is now surely the snail whether we like it or not.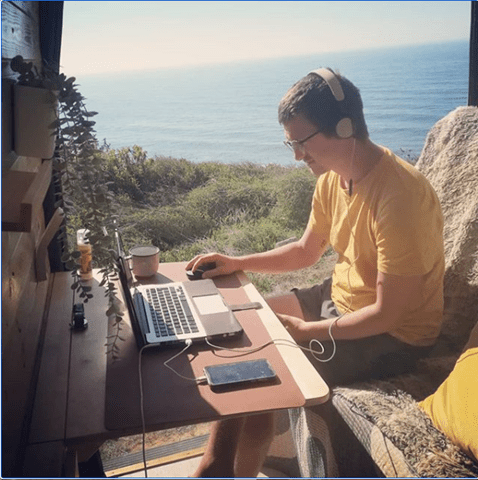 Living in the van has helped us to understand what it is we need from a tiny home. If we could start over, we would do a lot of it the same, however, there are certainly bits we would also change.
Our freshwater storage consists of a 25L tank. This is a little small for the two of us and we find we need to refill it every few days, however, this coincides with our needing to empty the toilet so it's not that bad. On that note, buy a toilet (don't be the people who leave toilet roll everywhere) and buy the biggest one you can find (there is nothing worse than being caught short).
When we set out, we intended on getting by with a baby wipe shower every now and again, with the occasional dip in the sea. We soon realized this wouldn't cut the mustard, and so we invested in a pump-up shower bag from decathlon. It is awesome and we would highly recommend it, however, if I was starting again, I think I would try the old black pipe on the roof solar-heated shower thing. They look pretty cool.
Leaving the UK we caught the Plymouth-Santander ferry and have kept the coast close on our right ever since. We have just entered back into Spain having crossed the length of the Portuguese coast. We have learned how to surf (an ongoing endeavor), we have learned about the nature and cultures of these places, we have met very cool like-minded people (and some cool unlike-minded people) as well as seeing some fancy pants buildings and idyllic beaches. We have also changed in our relationship. Living in such a small space we have had to learn to share everything, from sad thoughts and smelly farts to fits of laughter and coffees on the cliffs. Van life is amazing, but not for everyone.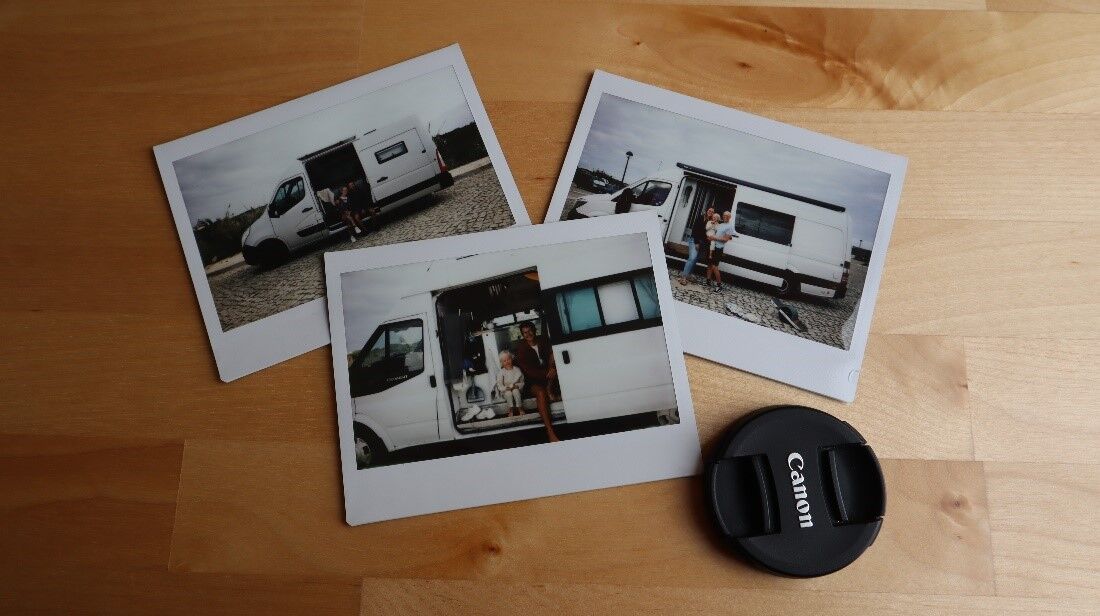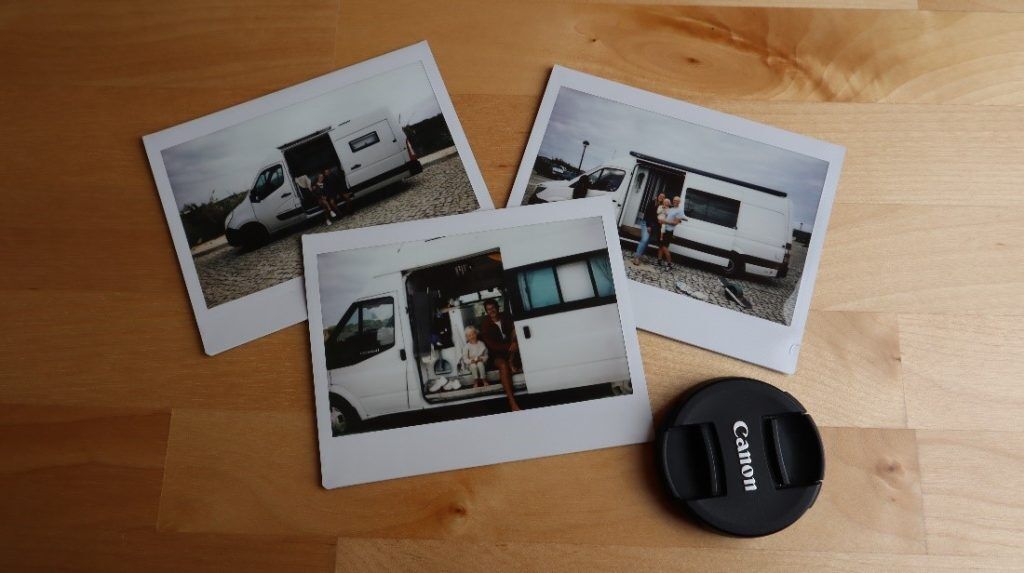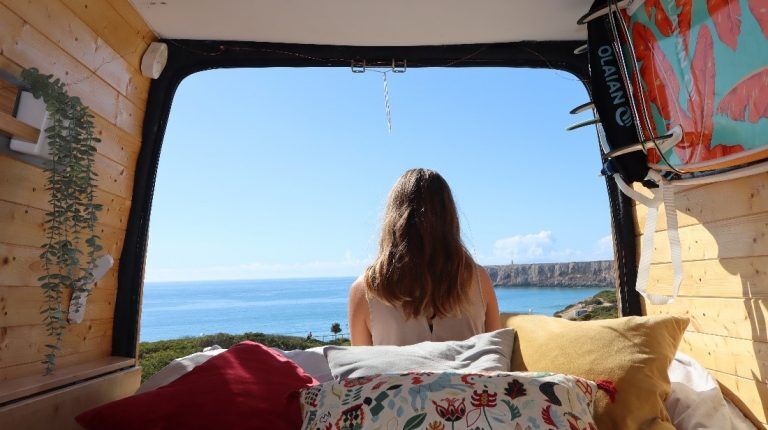 We find that the hard part of planning is not in deciding what to do, but in deciding how we can do everything we want to do. We have big plans going forward. We want to explore as much of Europe as we can, the Balkan states, Scandinavia, all across the Med., we even want to come back to the UK and really explore there too. There are too many options!
Thank you so much for taking the time to read all this, and thank you to Self Build Campervan for asking loads of brilliant questions, I really enjoyed writing this up.
Make sure you follow along with our adventures on Instagram and YouTube to see what we get up to.
Cheers and gone,
Tom & Iz