We are Adam + Brittani Fenimore! A married couple that lives full time in our van traveling around the US (for now). We were inspired to live van life on our honeymoon when we watched a group of people living in vans on the beach in Hawaii. They were so full of life and you could sense the freedom and joy they had for the life they were living, even from a distance. It took us almost 3 year from that honeymoon for us to finally make this dream a reality and now we have no plans on living any other way for the foreseeable future. Our main motivation for living this way is freedom of time, reduction of our impact on the planet, and living each day for an adventure. Our instagram handle @FenimoresAdventuremore is a play off our our wedding hashtag – #fenimoresforevermore. Since our inspiration for van life happened on our honeymoon and we strive to continue to get outdoors and experience adventure we think it's fitting. We love helping inspire others to chase after their dreams. We are not special, we didn't have a helping hand, we just wanted to change our lives and live FULL of joy and adventure so we got to work and never gave up!
What van are you currently living in?
2015 Ram Promaster 2500 159" WB High Roof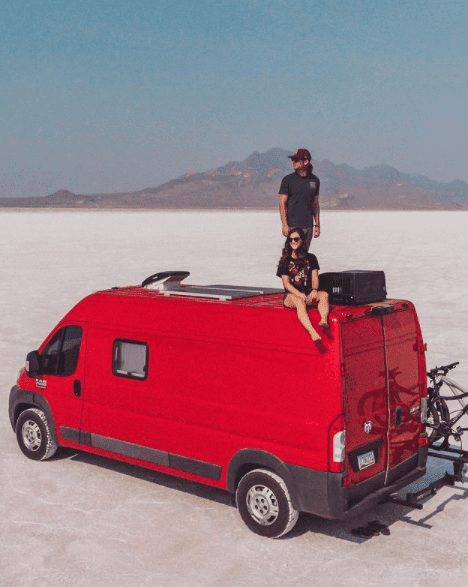 How did you find your van and where did you buy it?
Craigslist – it's not all scams 🙂 We bought it in Boulder, CO and we were living in Denver, CO at the time.
Approximately how much did you spend building it out?
Our van was mostly already built out how it is today when we bought it. We have invested money in several upgrades like a diesel heater, new more robust water system, swivel seat, lagun mount/table, additional seating, and some other small projects
Did you complete all the Van Build yourself?
Nope! The entire time we always thought we would build ourselves strictly because of budget but when we found our van it was one of those meant to be things!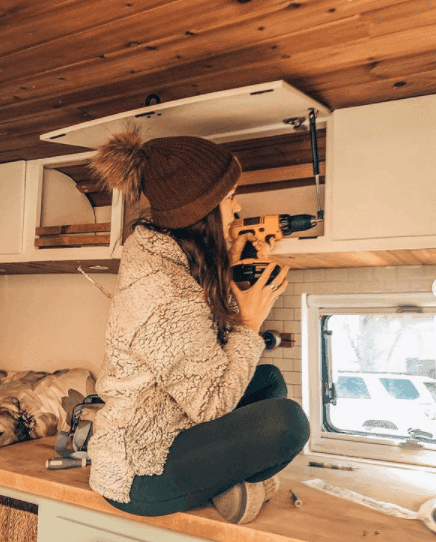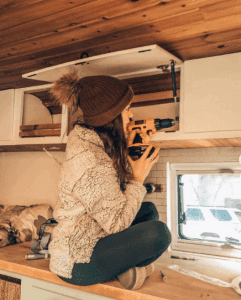 What was the most difficult part of the campervan conversion?
Of the things we did by far the diesel heater install. We did this project while living on the road and in the middle of a single degree snowstorm so conditions were less than ideal. Plus there is seemingly lots of risk involved. However, now that it's done we are so happy with it.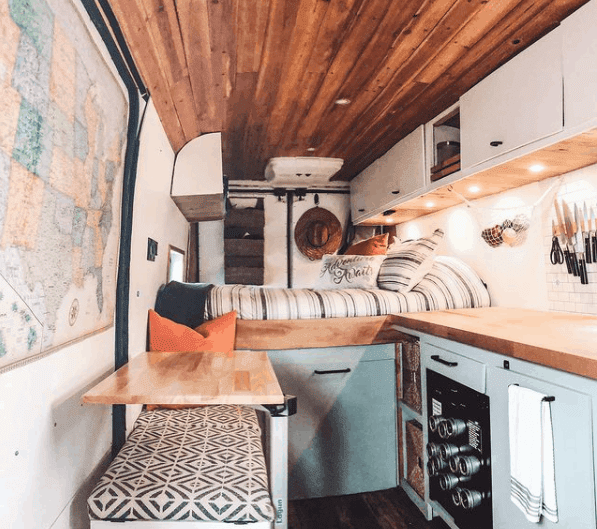 If you could change one thing about your van build what would it be?
We would LOVE an oven! Cookies, pizza or even just baking good ol' chicken and veggies while watching the sunset sounds like a luxury!
Is there anything you forgot to bring and didn't have in your Van once you started Vanlife?
A poop shovel and public shower flip flops…that changed very quickly!
What do you work at when on the road during Vanlife?
We work together as content creators to help brands we love spread awareness about their company and products. We also just recently launched a podcast to tell our stories from the road and help others get out there too. Finally, Brittani is a virtual health and fitness coach!
Has Vanlife changed your life and if so how?
Absolutely! We took a leap of faith and trusted we would be able to generate income while living on the road. If anything it has taught us we are more capable than we think. We are so much more trusting of our instincts and where the universe is guiding us now. As a couple we have grown closer. We have known each other 14 years and we thought we knew EVERYTHING about each other before living in our van. But, now it's safe to say we actually know everything! We spend all our days, hours, minutes together and we absolutely love it.
What is the hardest or most frustrating thing about living on the road?
The constant maintenance/upkeep just to do simple tasks can wear on us sometimes, but it's also a really beautiful part of the lifestyle at the same time. It's a reminder that we are living small and resources are limited and we need to be mindful.
What is something you expected to be difficult in Vanlife that actually turned out to be quite easy or not an issue?
Finding free water sources. For some reason this was a big concern of ours and we budgeted quite a bit for water when we were planning, but 10 months in and we haven't paid for water once!
What would you do differently moving back into a house now than before the trip?
Dishes. We have gotten really good at using minimal water to get clean dishes. And to keep it real, I don't think we would go back to daily showers! It's really not necessary we have learned.
What is one place you want to take your van that is still on the bucket list?
ALASKA! We were supposed to go in summer of 2020 but due to COVID had to set the goal to 2021. Hoping we will be able to make it next summer because it is our final state we need to experience together!
What is the best place you have visited in your Van and why?
We are really bad at picking one place. We love the west coast in general because it's much more van/nomad friendly. But we have been to 26 states since we moved into our van and we have just had a hell of a time and are so grateful to be able to experience so much of our beautiful country!
What has been your best experience on the road so far?
One of our favorite experiences so far was a random free camp outside of Glacier National Park. We were able to finally meet other vanlifers and feel what this community is really about and what inspired us all those years ago in Hawaii. Everyone has different skill sets, lives in a different rig, is on a different journey but the main goal is to help one another. Lend a helping hand however we can, and join together. It's really the most beautiful and compassionate community we have ever been a part of.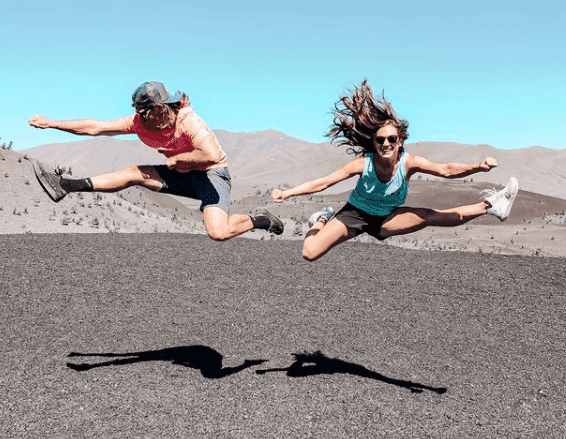 On average what is your weekly expense when "Van-Lifing"?
This varies so greatly based on how much we are driving and where we are. But what we do know is BY FAR our biggest expense is food! Our grocery bill has doubled since living in the van. We have become more conscious of where our food is sourced and try to fuel our bodies with natural, whole foods.
Has your diet changed since you've started Vanlife and describe a typical day of eating for you(s).
What kinds of foods we eat haven't really changed much. We have been really good about fueling our bodies with whole foods for several years now. However, the way we buy food has greatly changed. We can't bulk buy when things are on sale due to storage, or freeze a bunch of protein, etc. This is part of the reason we believe our grocery bill has significantly increased.
Describe a typical day for you in Vanlife:
A typical day is non existent in van life! haha It's actually something Brittani struggles with sometimes. She thrives on routine and there really is no way to have a routine when living on the road. But it's been amazing to challenge that "need" for routine and live each day as it comes. However we will say things we try and make sure we get done at some point each day: drink coffee (slowly and whenever we damn please ;)), get an hour or two (or sometimes a full day) of work done, workout – either a traditional workout or something outdoors to get the body moving, enjoy the sunset, and remember just how blessed we are to live this dream out.
Is there any one bit of advice you could offer to someone considering Vanlife?
If something is tugging on your heart to get out there and travel and live in a van, DO IT! We had so many fears hold us back for many years but now that we are on the road we realize we could have made this a reality sooner if we just dove in. Trust that you have what it takes to fly and know you WILL figure it out along the way. You got this.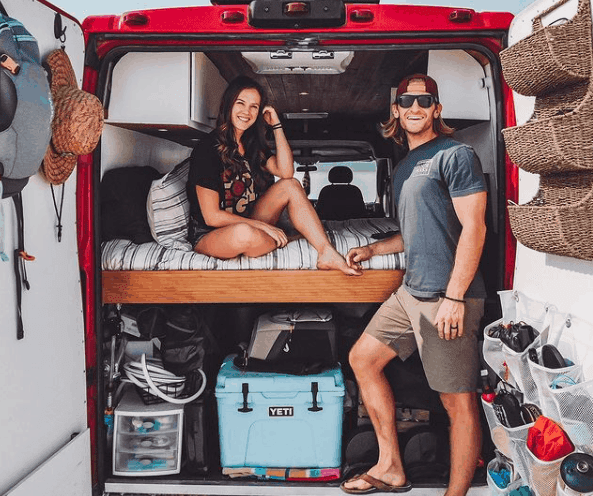 Check out fenimoresadventuremore's podcast "Behind the Cargo Door" on Spotify: