6 Essential Tools You Need for A Successful Campervan Conversion
Welcome campers, we hope you're staying safe out there – catching some rays where possible but doing your bit to stay in doors as much as you can.
This article today is going to be covering camper van conversions, and specifically the tools you'll need to have at hand before you start banging nails at full force.
Camper conversions, as a disclaimer – are no small feat: it's no easy task to take a large piece of machinery (not designed for living in!) and turn it into something spectacular, something comfortable, and something sustainable.
Below, we're going to count down essential equipment to get you on your way.
For raw tools, you'll be looking at acquiring a saw first and foremost: especially if you decide to use foam board like we will discuss, or wood cladding to design the look of your interior.
Next to that, we'll be looking at getting together the standard DIY tools like drills, stationery for marking and measurements, and an old-time favourite – a spirit level.
Aside from the obvious, we recommend:
A great heat gun
When you're dealing with wiring, (which you will be – a lot!) you'll want access to a high-quality heat gun. It's 2020, and everyone is busy. No one has time for using a hairdryer to flex the wiring. Use a proper heat gun to execute on your camper's inner workings.
Here are some of our quick picks for readers:
DeWalt really packs a punch with this commercial-grade heat gun, and we think it's the best on the market. It's ideal for professional and leisurely use. With an intuitive LCD display to control temperature, you're really getting a fantastic bit of tech for your project.
DeWalt boast an automatic overload protection on their products which creates a safe user experience. It's also incredibly lightweight for its power. We strongly recommend the model.
Bare in mind that this choice of heat gun for your camper conversion is on the pricier end of the spectrum, and the tool will set you back around £98. For that reason, we've got some other suggestions for converters on a budget.
Another trusty model for camper converters out there: the Wagner clocks in at £79.99 and it's a market leader for reliable heat guns.
It's a versatile, secure tool that allows for pretty seamless use; it's light and has a few interesting additions:
Concentrator glass protection nozzles for extra safety
A great memory function that recalls the last settings you used on the gun.
Wicked-fast heating and cooling for ease of use.
This gun is a bit cheaper than our number one choice, the DeWalt, and it's ideal for DIY and larger project use.
It's light, it's comfortable, and it's affordable. Bosch's reliable £41.99 model allows for a great introduction to heat guns, particularly if you're looking to convert your camper on a budget.
With several heat settings at a maximum heat of 600 degrees, the gun is clean and simple, an automatic shut-off at intense heat like with the Wagner, and a soft-grip handle that makes the gun incredibly pleasant to use. Be sure to have a look at this one.
A headlamp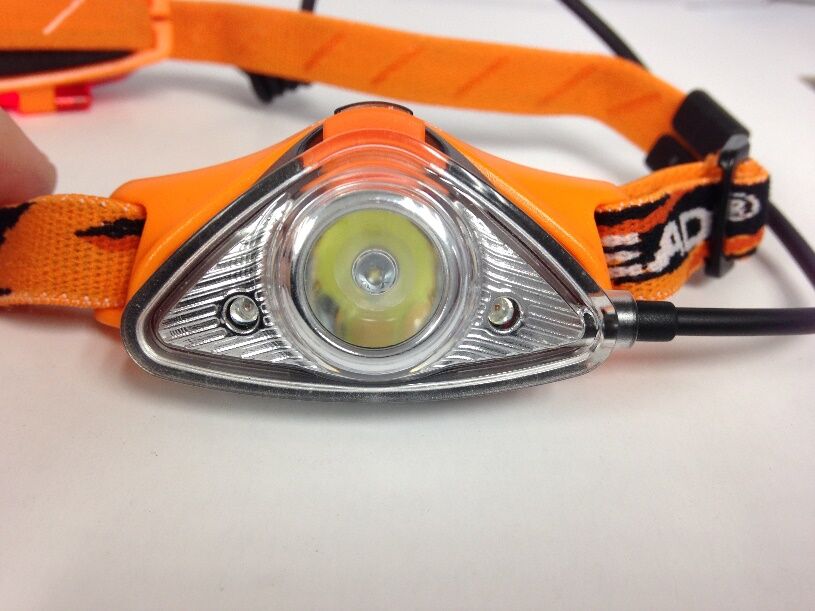 This is a pretty fun addition to the list. Converting a camper takes time and dedication, and sometimes – a sleepless night or two. Whether you're working under the van, on top of it at night, behind obstacles that block light – you absolutely need a powerful headlamp. It's like a little helper that keeps you from catching your fingers in anything while you're tinkering late into the night.
Remember that when reviewing our top picks for headlamps, we aren't in dire need for feature-heavy gizmos here. We're looking for reliable, easy-to-use tools that will aid our camper conversion project without breaking the bank. With that said, let's take a look:
This headlamp is bright, comfy on the head and easily adjustable: BioLite have a clean track record for long-lasting batteries in their products, and the HeadLamp 200 is no exception.
With a smooth headband of soft fabric and adjustable straps, this affordable headlamp is perfect for beginners in the camper space. It retails at £44.99 and is one of our top picks for this article.
It's rechargeable by the industry-standard micro-USB, and this allows for on-the-go charging so you never miss a work session.
This is a fantastic headlamp option for camper converters on a tight budget. With a burn time of 220 hours, the Petzl packs a big punch for its humble price-tag of £20.
It's powered by a hybrid setup; part-AAA batteries, part micro-USB; a useful decision by Petzl but one that might confuse beginners. It's quite regularly on a discount and we've seen readers snag this for less than £15. It's great.
The priciest headlamp on our list; the Silva clocks in at a luxury price of £83.99 via Amazon. If you're serious about your project and you're not-so-stuck for cash, the Silva can be a pretty lovely treat for more flexible purchasers.
In full power mode, the headlamp will run for up to 36 hours. This is very impressive considering its properties: lightweight, ergonomic and very comfortable.
Again, the headlamp is rechargeable and hybrid-powered, and it's equipped with multiple light modes so you can pick and choose depending on the time of day.
A powerful jigsaw
Jigsaws are effectively hand-held alternatives to band saws or scroll saws. It goes without saying that any camper conversion project will be aided by a reliable jigsaw, particularly when dealing with the hard wood and material you'll be kitting out your camper with.
Remember that jigsaws are naturally going to set us back a tad more, but we can try our best as campers to keep the costs down. If it saws, it works! (Just make sure it's safe.)
Below, we'll detail some of our top picks to point you in the right direction for an appropriate jigsaw.
A familiar face coming in at our first option is a reliable piece of kit from DeWalt.
It's a 20V, cordless tool with versatility on its side. With an anti-slip comfort grip and a four-position orbital action, the jigsaw is easy to use and multi-purpose. This company never fail to impress.
Clocking in at around £130, the jigsaw boasts a five-star rating across multiple online resources.
One of the most helpful features of the Bosch 7.0 was, oddly, the incredibly long power-cable; allowing for on-the-go repositioning (and perfect for wrapping around the camper!)
Perfect for continuous, long cuts – the Bosch 7.0 has a lock-on feature, allowing for ease-of-use when tackling extensive wood-planks and boards you might be trimming for the camper.
In the unlikely event that you cut through some wiring, the body is insulated and housed in protective casing, allowing for peace-of-mind if you're near any electrics. It's a fantastic option for a jigsaw, and it comes in at around £120.
Ryobi is a leading Japanese manufacturer that we wanted to add to the list for several reasons.
This model is incredibly lightweight, boasts some fantastic portability and allows for cordless cutting. It's an excellent solution for small-medium jobs and it's designed for all kinds of cuts, including bevel, straight and pocket cuts.
Any adjustments you may need to make are fast and easy, and with a humble price tag of £73.95, the tool has been showered with five-star reviews on Amazon.
A reliable impact driver
If you have never owned an impact driver, the task of researching this nuanced tool can be quite a challenge. What price should you aim for? What brands offer the best tools?
Below, we've outlined some of our favourites.
This is one of our favourite impact drivers for your camper conversion: it's a cordless beast and packs a serious punch, (around 1400lbs!) and offers a quick change hex for drill bit changes on the fly. It's sleek, smooth and it allows for a stress-free experience.
Plus, it's incredibly light for the power it's got behind it: 2.9lbs is all you'll need to lift when operating the Porter-Cable. We can't fault it. For around £170 retail, this is one of the higher-end tools for your conversion project.
This model is excellent. Ridgid really did a fantastic job here; the tool provides a wide variety of speed and torque settings so you can tackle a range of tasks, and the most impressive feature of the Ridgid model is the 2000lbs of torque and great battery life.
On top of this, you receive a battery indicator with each shipped model that keeps you up-to-date on the battery life while you work. Clocking in at £70, the Ridgid is one of the more affordable picks of the three, but you're getting some tremendous value for investment.
This one loves small spaces, and any camper conversion expert worth their salt will tell you that small spaces are one of the project's great annoyances. Any hard-to-reach spot will be no match for Bosch's spotlight impact driver.
It boasts a compact, clean design without the funny business; and it even has a fantastically useful LED light attached that illuminates the surface you're working on in low light.
It's got some fantastic run-time and allows the user some excellent control; simply put – you can always rely on Bosch and this is why the brand has features several times in this article.
The innovative electronic cell protection feature makes it hard for beginner users to mishandle it or break the inner workings with poor application. At £120, we can't fault this impact driver for middle-tier purchasers.
A caulking gun
Caulking guns are incredibly useful for any camper conversion project. When you run into problems, and cracks that need sealing – during your conversion, a caulking gun will come to the rescue. Because these guns tend to be very affordable, we've decided to choose our very favourite: they all do essentially the same job!
Everbuild SGNPOWER Power Pro Sealant Gun
Clocking in at a whopping £11, the Everbuild is one of the highest rated caulking guns available on Amazon.
It provides work for sealant cartridges up to 400ml; the trigger is smooth to use and the soft grip handle takes care of that too-familiar pain you get with prolonged sealing.
On top of this, no good caulking gun would be complete without an effective sealant; Everbuild takes care of this, too! Their general purpose silicone sealant is perfect for use in this project.
Added extra: some serious drill-bits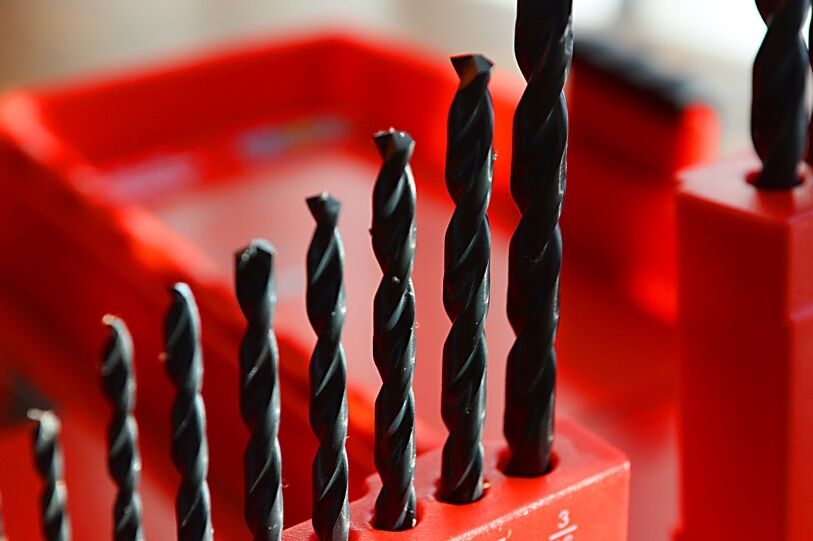 We mustn't forget drill-bits, nor forget the industry leader: DeWalt!
DeWalt's DW1354 14-Piece Titanium Drill Bit Set provides a kit for heavy-duty drilling; perfect for the thick panels we'll be tackling in our conversion projects. To prevent straying of the drill when you're deep in work, this set employs reliable titanium pilot-point so the bit doesn't slip mid-drill.
The set comes with a hefty and durable carry-case, perfect if you're on the road in your camper. (Remember, you'll be taking many of these tools with you on your adventures!)
A runner up would be Black & Decker's Combination Set; a kit designed for multi-use jobs but maybe a tad less reliable for this kind of project. DeWalt's kit clocks in at £26, while B&D will set us back £20.
Wrapping up
To bring this article to a close, we'll want to leave readers on a reassuring note: budget is incredibly flexible in a camper conversion project. If there are tools on this list that are out of your range, you can switch it up – there are plenty of variations to each tool but we prefer to stick to the reliable brands.
As always, thanks for reading and we'll see you in your completed campers.