Insulation is key when it comes to constructing your campervan; you want to be cool in the summer and warm in the winter, especially if you're going to be spending some long nights inside of it.
There are quite a few options when it comes to choosing insulation. But the few materials that we'll be discussing in this article are:
Sheep's Wool and Rock Wool Insulation
Polystyrene Foam Boards
Spray Foam Insulation
Fiberglass
Thinsulate
For each choice, we'll go over the advantages and disadvantages of that material, and on which part of your van to use it. Towards the end of the article, there will be a step-by-step guide on how to properly insulate your campervan. This method can generally be used with all the materials we talk about; if there are any specific steps for individual materials, then they will be clearly displayed in bold below the main step.
Let's get stuck in…
Sheep's Wool and Rock Wool Insulation:
Although these are technically two different materials, we're putting them under the same category for sake of convenience.
While Sheep's wool is exactly what it says on the tin, Rock Wool isn't necessarily "wool"; it's actually recycled rock that's been spun into small fibers that appear similar to wool. Rock Wool is therefore very rigid, tough, and durable, making it great for roof and floor insulation.
However, since it's comprised of microfibres, if inhaled, the Rock Wool can have detrimental impacts on your health. It can become stuck in your lungs, and lead to breathing difficulties.
Rock Wool is also one of the most expensive materials per square foot.
Sheep's wool, on the other hand, is very safe and not a danger to your health.
Despite not being as tough as Rock Wool, Sheep's wool insulation offers many benefits of its own.
One of its biggest advantages is how breathable of a material it is. Due to pockets of air within the wool itself, the wool can absorb and trap moisture. This is great at preventing mould. It also allows for partial soundproofing, making it particularly good for wall insulation. It's also extremely environmentally friendly.
Sheep's wool is one of the cheapest materials per square foot, but this is evened out by the fact that you need to build up more layers of it than most other materials.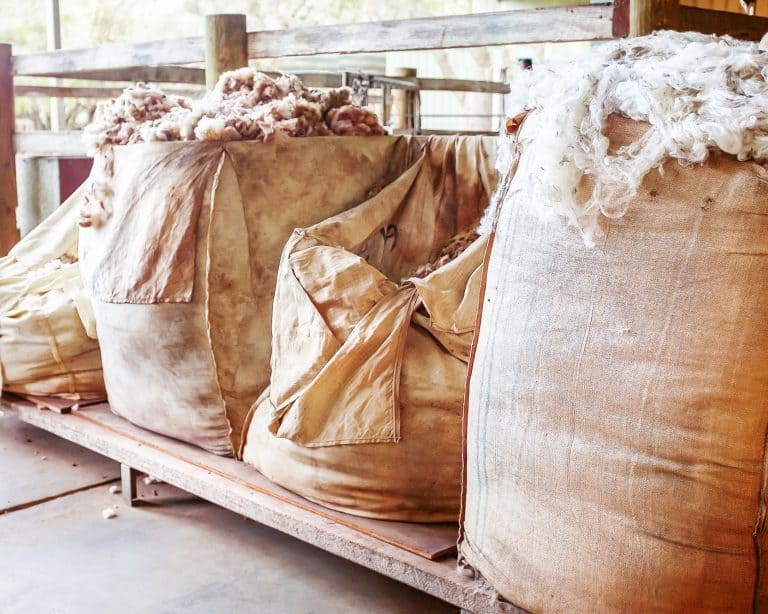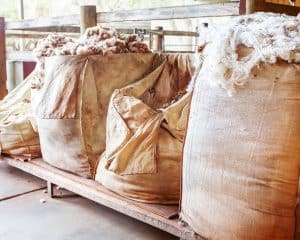 The two types of foam board we'll be talking about in this section are Extruded Polystyrene (XPS) and Expanded Polystyrene (EPS).
XPS is one of the most common ways of campervan insulation, and even insulation in houses. These rigid boards are extremely durable and are perfect for roof and floor insulation. Unlike how Sheep's wool traps moisture inside of it, XPS is actually impermeable to moisture, meaning no moisture can get through it in the first place. Also unlike Sheep's wool, XPS is terrible for the environment, due to its manufacturing process releasing copious amounts of greenhouse gases that add to climate change and global warming. Yet, XPS is cheaper (on average) than Sheep's wool.
EPS, while made of a lot of the same materials as XPS, is not nearly as strong and durable as its other polystyrene counterpart. Its also not impermeable like XPS. However, it's slightly cheaper than XPS, and is also environmentally friendly.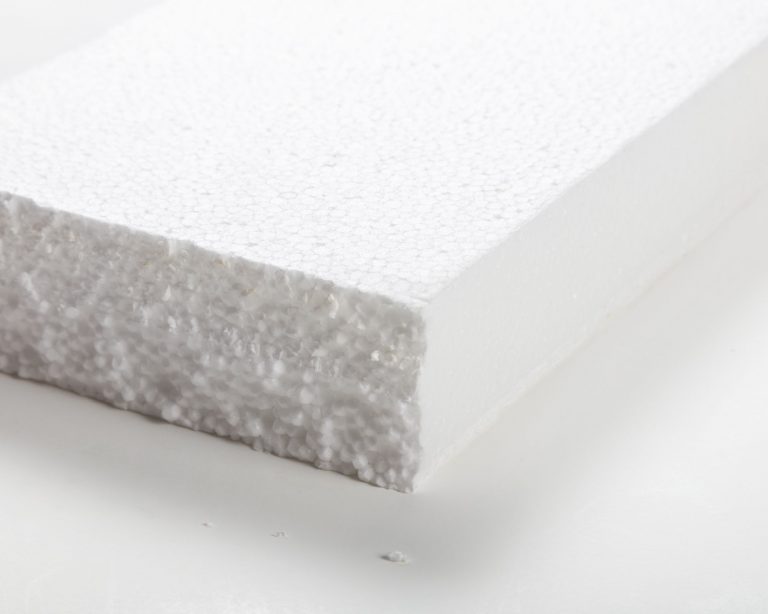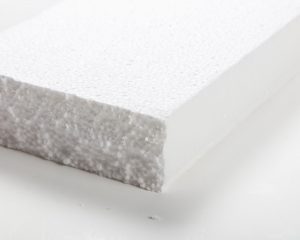 Spray foam takes some positives and some negatives from both the previous options.
Like XPS, spray foam forms an impenetrable barrier from moisture; but it doesn't have the same level of strength.
Like Sheep's wool, it can also act as a sound barrier, dampening sound coming in and out of the campervan.
Although it seems like spray foam should be one of, if not the best option for insulation. It has one major flaw: cost. You see, spray foam is only sold in two forms; as part of a large kit that is meant for whole houses, or tiny cans. For a campervan, the cans would be more efficient. But you have to purchase multiple cans depending on how big your van is, and what parts of the van you're going to use spray foam to insulate, which will probably just be the walls and doors. Buying so many cans can raise the price a lot.
Another aspect of the spray can method is that it's hard to get right on the first try.
A lot of people can get frustrated when it doesn't quite turn out right, and it can create quite a mess.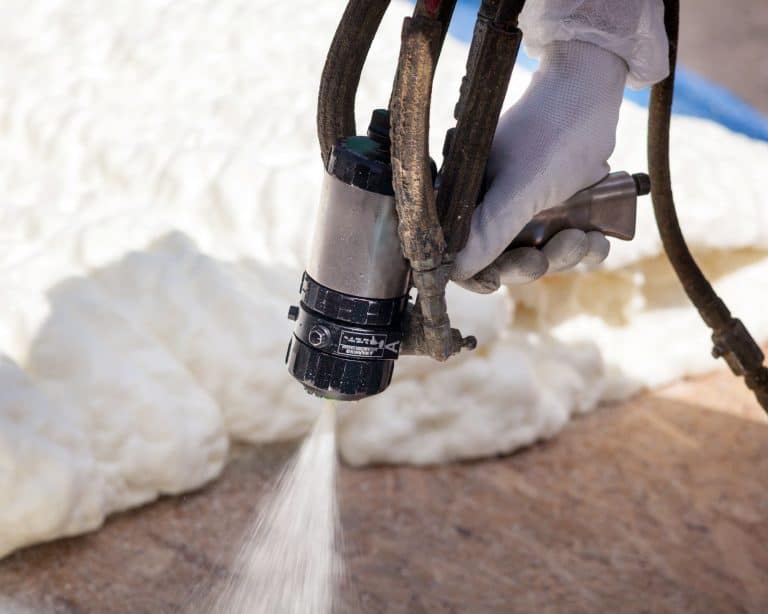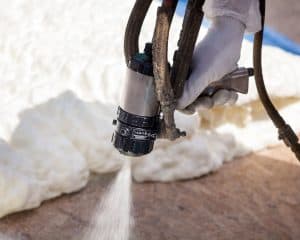 Fiberglass is the most popular form of insulation in housing, but it's a lot less popular in campervans. And that's because it needs so many layers to actually work to its full potential. Similar to spray foam insulation, although it's cheap, you need so much of it to properly insulate your van, that you end up with a huge bill at the end.
Fiberglass is also not very durable, crumbling away after so many years. This could be extremely dangerous as the small particles inside the fiberglass can cause extreme irritation if they come into contact with the skin and can be very dangerous if inhaled. This is something people don't usually worry about when using fiberglass inside of their home, because it's behind thick brick walls. But when inside a small camper van with think walls, it becomes a much larger threat.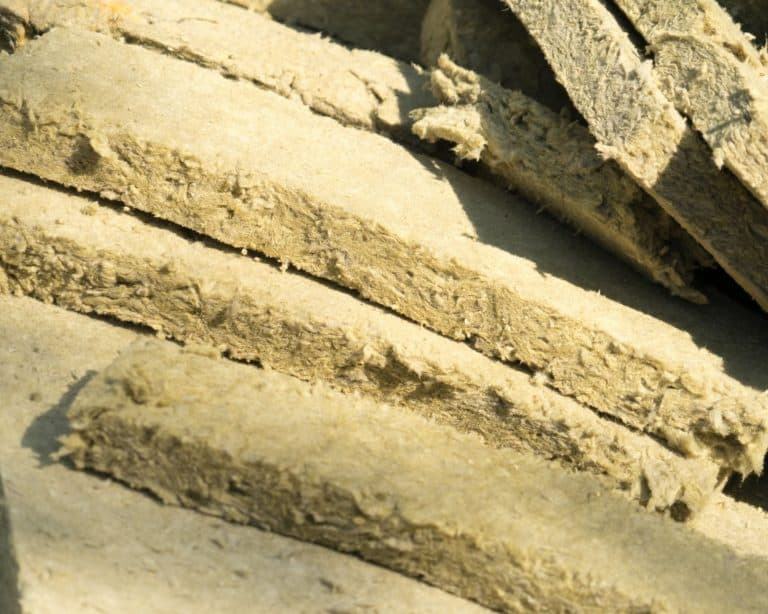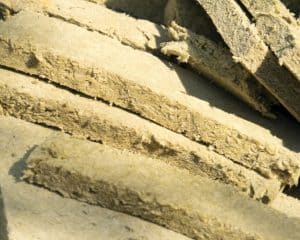 In terms of the benefits of using this material, Thinsulate is probably the best all-round insulator on this list.
Not only is it a pretty good insulator (that's a given), but it's also great at managing moisture. The material doesn't trap the moisture, it allows it to pass through it. Therefore no condensation is built up behind the insulation. It also has sound-deadening properties. It's decently tough, taking a good amount of force to damage or tear it.
Due to its many advantages, Thinsulate is not the cheapest material on the market. In fact, it's one of the most expensive materials on this list brackets (per square foot). To add insult to injury, you need multiple layers of it to cover your whole van, especially as the Thinsulate sheets are so thin.
But the process of actually fitting the Thinsulate is a lot easier than most of the other processes on this list; you simply glue it on (obviously with some pretty tough super glue).
Which is the best overall material?
Now this part is somewhat subjective, as it depends on what properties you're looking for when choosing which material to go with. Of course you probably want one that traps heat the best, but you also might want other properties such as sound dampening.
But taking all of this into account, we think that the best overall material is…
Thinsulate
It's cheap, reduces heat flow, and allows moisture to escape. Thinsulate retains some of the heat produced by the body for comfortable warmth. What more could you want!
How to install your insulative material
As stated in the introduction, this is a general guide for most forms of insulation. Any specific steps for certain materials will be made clear. This will apply mostly to the polystyrene foam boards, spray foam, and Thinsulate materials. With all that said, let's begin…
The first thing you're going to want to do is to measure the areas of all the parts of the van that you're going to insulate. This could be doors, walls, floors, windows, etc.
With that information, you're then going to buy the appropriate amount of each insulative material.
Remember to keep in mind that for some of the materials you're going to need more than one layer. This applies to the Sheep's wool, Thinsulate, spray foam, and fiberglass.
For the spray foam, you need to check the area that each individual can covers, so you know how many cans to buy.
Cover up or tape over the areas of your van that you don't want to be insulated. This is mainly for people using spray foam so that you know exactly where to start and stop spraying, but this is also a way to help you create a picture of where your insulation will be.
For people using Thinsulate or polystyrene foam boards and Thinsulate, this is also the perfect time to mark out some cardboard templates. Using these templates, cut out the exact shapes you need for your van, this time with the actual insulative materials.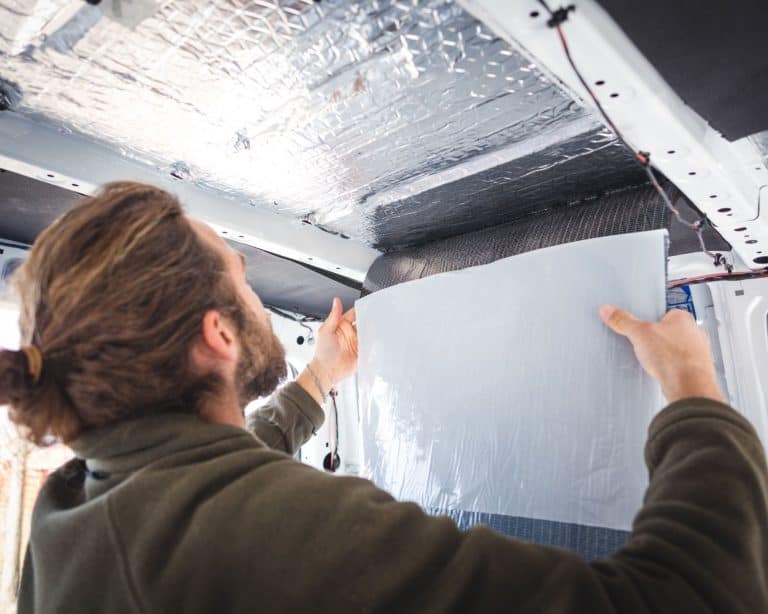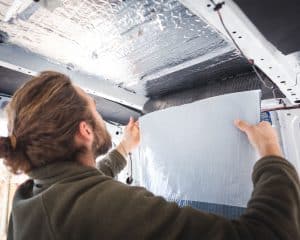 A similar process should be done for those working with fiberglass. But before doing so, make sure you are wearing the appropriate safety equipment (e.g. mask, gloves, goggles).
For those using both the Thinsulate and foam boards, simply apply adhesive and stick the pieces to their corresponding places in the van.
For those using spray foam, now is the time to begin your first layer. Make sure you are wearing a mask, gloves, and goggles too.
For those using fiberglass and both the Sheep's wool and Rock wool, fix the cut-out fiberglass butts into place, stapling them once in a firm position. Again, making sure you're wearing the correct safety gear.
For the materials that need more than one layer, wait a few hours before applying the next layer. Repeat the same process as you did before. Do this however many times you need until you have built up a solid amount of insulation; in most cases, you'll know hen you've added enough layers when the sound dampening properties become more pronounced.
It's important not to add too many layers of insulation, as the material won't be able to breathe; this leads to a build-up of moisture, and eventually, mould will begin to grow within the walls/floor/roof of your campervan.
If you have some gaps left in between your insulative material and the rest of the van, you can now fill those in with either smaller bits of that same material, or use spray foam insulation, as it is perfect for filling smaller gaps in your van.
That's it! Now all you have to do is fit whatever surface you choose over the top of the insulation.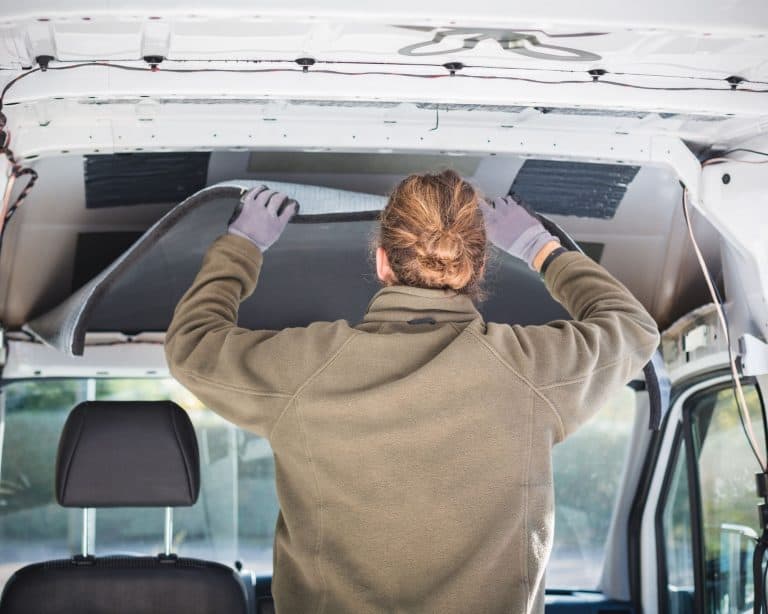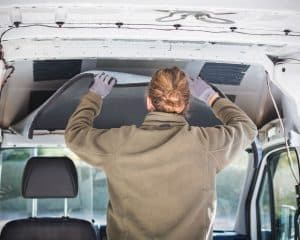 We hope that you found that how-to guide both easy to follow and informative. When it's laid out clearly, the process doesn't seem as difficult as many people assume it to be; and that's true! As long as you are well equipped and logical with how you approach insulating your van, it can be pretty simple.
While this article has explored many different types of insulation, there are certainly more options to chose from out there. But these are not only the most popular forms of insulation, but also the ones that are the easiest to come across in the hardware store, and they're also some of the easier ones to install.
But for the most part, these are the only materials that you'd need for each part of your van. They cover all the necessary bases and can be utilized in any situation and obstacle you might come across.
Good luck with your own DIY installation! We hope your campervan will turn out as comfy and cozy as possible.