Introduction - onourwayinavan
We are Simon and Rhi! @onourwayinavan on Instagram and YouTube!
We are full-time van lifers, living in our self-converted Luton box van, and have been on the road since September 2020. We have lived in the van since day one, whilst converting it, the early days of a sofa bed and a few candles are long gone now! We have both gone from working 12-14 hour days, most days of the week, and saving for a year to the complete freedom and happiness the open road brings.
To add to our adventures we have just set up home over the past month in northern Scotland, living our long-term dream that has already become a reality, creating a homestead on 15 acres of beautiful land and woodland, growing, building, and exploring to our heart's content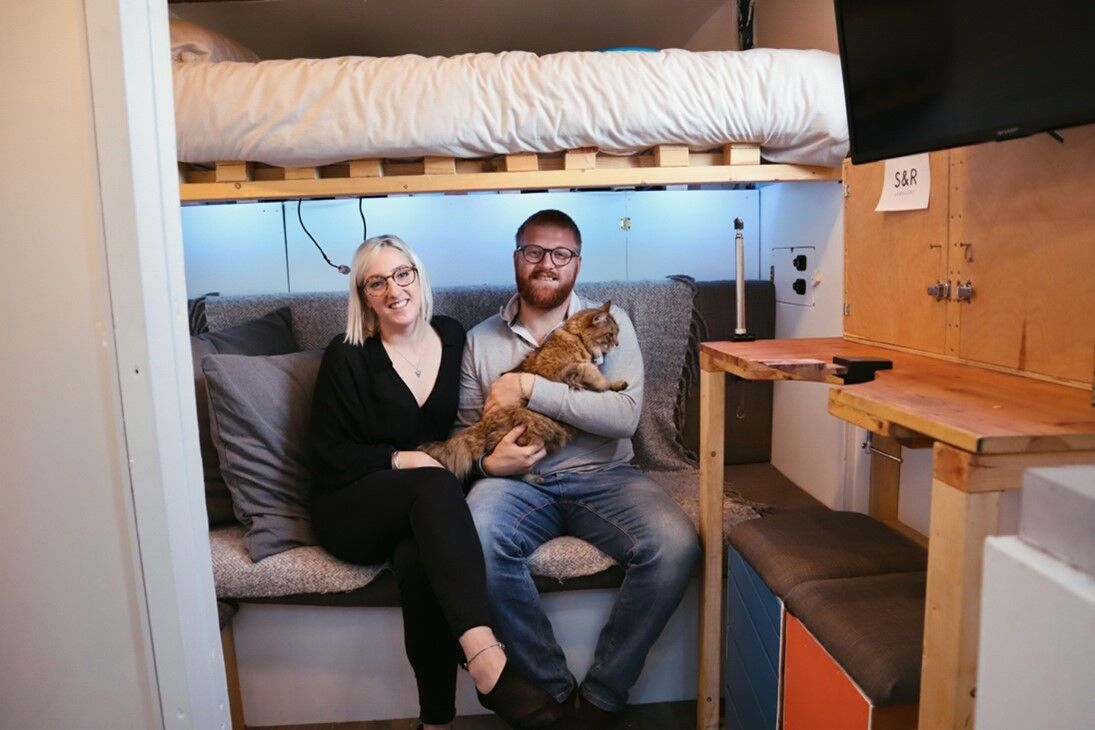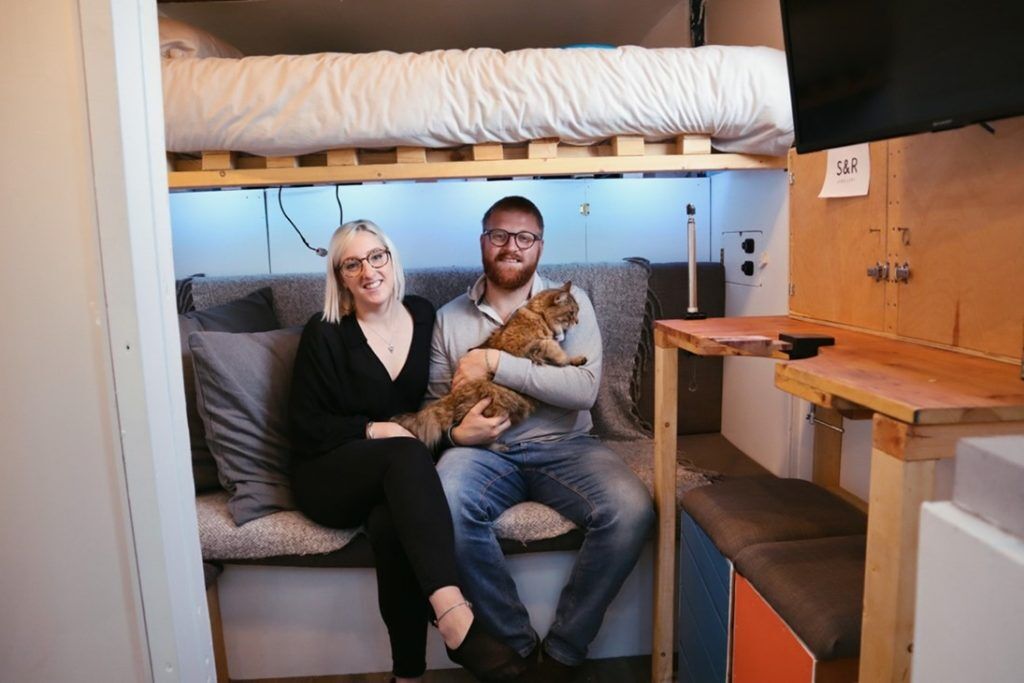 What van are you currently living in?
We currently live in our self converted Ford Transit Luton box van
How did you find your van and where did you buy it?
We found the van on eBay, we bought it an hour away from our home town!
Approximately how much did it cost to purchase?
The van cost £5,500, it's 11 years old and was previously a bakery delivery van.
Approximately how much did you spend building it out?
We spent between £10-15,000, we didn't do it on a shoestring budget and learned a lot along the way which meant added expenses of re doing things, like our kitchen twice!
Did you complete all the Van Build yourself?
We completed the van build ourselves (mainly Simon!) with the help of lots of YouTube videos!
What was the most difficult part of the campervan conversion?
The most difficult part of the conversion was probably the carpentry, we wish we kitted it all out with Ikea furniture to save lots of time and hassle but we learned so many new skills because of this.
If you could change one thing about your van build what would it be?
The weight! A lot of the woodwork is heavier than it could be, we wish we worked that out sooner, obviously everything adds up and the van is already diesel hungry without a van conversion in the back.
Is there anything you forgot to bring and didn't have in your Van once you started Vanlife?
No, we were already living in the van whilst converting it so already had all of our belongings inside! Which was great when it finally came to hitting the road, we didn't need to minimalize on anything. (Rhi had already chucked ¾ of her wardrobe!)
What do you work at when on the road during Vanlife?
We fortunately had a year's worth of savings to hit the road with, so for a long while yet we don't need to go back to work! Rhi did graphic design at university though and does pick up freelance work here and there.
We do have an Etsy shop too – SimonandRhi where we sell our handmade jewellery, wreath kits, and woodland materials all gathered from our beautiful woodland here in Scotland.
Has Vanlife changed your life and if so how?
Van life has changed everything for us, it's a completely different way of love that we both are well and truly in love with, we go on all the time about how we wouldn't want to live in a house again!
We love our tiny home on wheels and the van life community that comes with it, we love sharing our journey through Instagram and YouTube (@onourwayinavan) and have met many friends for life through these platforms that we are so grateful for.
Van life brings a freedom that you can't compare anything else to, our outgoings are very minimal, gas and heating costs next to nothing which gives us the ability to live on the road for a long time on the savings we have, this gives us the time to explore as much as we want and spend as much time as we want on things we love.
What is the hardest or most frustrating thing about living on the road?
We have two most frustrating things about living on the road
1. Finding water, we spend a lot of time on google maps locating taps and water sources but spend more often than not filling up for half an hour at the air and water pump at a petrol station.
2. How long everything takes! Your standard routine in a house takes twice as long, boiling the kettle, showering, moving from place to place as it takes 40 minutes to get the van clear of everything falling off the sides onto the floor.
What is something you expected to be difficult in Vanlife that actually turned out to be quite easy or not an issue?
We thought finding places to stay would be a huge issue, especially as having such a large vehicle but it has actually been one of the easiest things, we religiously use the Park4Night app which is absolutely brilliant, we haven't had any problems in any of the places we've stayed and that is most parts of England now! We (so far) haven't had any issues from anyone parking up, we've stayed in a lot of layby's too and industrial estates.
What is one place you want to take your van that is still on the bucket list?
We have always wanted to get over to Canada and America (definitely in a smaller van though!) fingers crossed we will get there eventually! We are suckers for stunning views and Canada is full of them.
What is the best place you have visited in your Van and why?
We have just travelled the UK so far in our van and Scotland for sure is the best place we have visited, we haven't explored much of it yet but what we have seen so far is the best yet.
On average what is your weekly expense when "Van-Lifing"?
On average we spend £40 a week on food, £8 on the diesel heather now it's a lot colder especially here in Scotland and we fill up our 6kg LPG tank every three months which costs around £8.
So it really does cost us very little, when we are on the road we spend about £200 a month on diesel which is our main expense.
Then theres the insurance and bits that we have to spend in order to keep the van road worthy! About an extra £150/Month
Has your diet changed since you've started Vanlife and describe a typical day of eating?
Not really as we have our wonderful Omnia, stovetop oven which we can cook practically anything in! We were worried when we moved into the van and weren't going to install an oven we would miss out on our main love, pizzas! But with our Omnia, we make them all the time, as well as lasagne and lots of cakes!
We don't buy much meat anymore as we can rarely have the fridge on in winter so we eat a lot of veg, pasta, and stews. A typical day for us and eating starts with coffee, always! Neither of us functions without it. We then usually have eggs on toast, porridge or cereal, lunch is nowadays soup or toasties and dinner is usually something carby like pesto pasta or risotto and lots of veg!
Describe a typical day for you in Vanlife:
A typical day for us on the road we spend most of the day exploring wherever we have parked up, not that we ever get up early! We then spend most evenings chilling and watching Netflix.
Now on our homestead, we spend a lot of the day outside, building or exploring the woods, Rhi spends a lot of time creating content for Instagram and YouTube whilst Simon is busy building something or working in the veg patch. We are then starving once it hits 5 o'clock so dinner and Netflix time for the rest of the evening!
Is there any one bit of advice you could offer to someone considering Vanlife?
JUST DO IT! There really is no other words, we haven't looked back since and never will, we have never felt so free and secure we absolutely love everything about living in a van. Buy that van and get adventuring! Live in the now and work the rest our along the way.