Introduction - Wandering_Nancy
Hey, we're Luke, Faye and Nellie (the dog). We initially found out about van life years ago through social media and youtube. Since then, we've found ourselves more and more interested in a different way of living. As the years have gone by and work has become busier and found ourselves working the corporate ladder, we thought 'surely this can't be it' and we decided to take the plunge to convert a sprinter, into a home on wheels. We know that VanLife isn't for everyone, and it won't be sunshine and rainbows all the time. But it'll free us financially, and allow us to travel and explore this beautiful world, at our own pace. Without having to cram it into a few weeks off each year.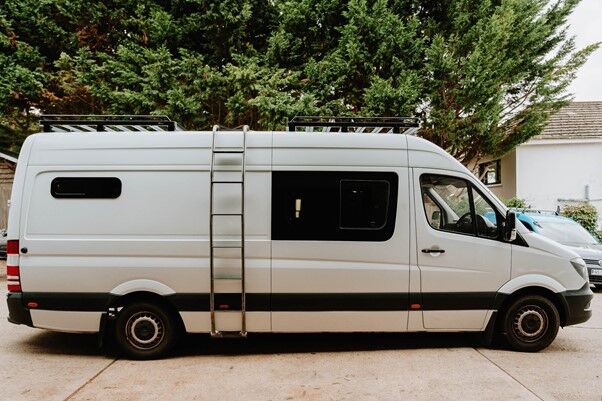 What van are you currently living in?
We're currently living in a house in Gloucestershire, we're in the middle of converting out 2014 LWB Mercedes Sprinter
How did you find your van and where did you buy it?
We searched for such a long time, mainly looking at commercial dealers, but they all charged VAT, making it even more expensive. In the end, we found a private seller, who'd only used it for motocross on weekends, it was in such good condition too, we knew it was the one!
Approximately how much did it cost to purchase?
We spent £11500 on the van, it's only got 40k miles on it too!
Approximately how much did you spend building it out?
Hmm, we must've spent between 12-15k on it, that's everything, new wheels, roof rack, electrical set up, and tools to do it. However, that figure may be more when we're fully done, there are always things we've forgotten.
Did you complete all the Van Build yourself?
Yep, all ourselves, we're learning each step of the way, there's so much information out there to consume on youtube etc.
What was the most difficult part of the campervan conversion?
Hmm, so far I'd say the things that require drilling holes in the metalwork of the van, such as fitting exhaust cowls, roof racks etc, it's always a scary part too. I think we've still got some of the most challenging parts to come, finishing the wiring and building the shower.
If you could change one thing about your van build what would it be?
I think making the bed a little lower, as when we sit up in bed, my head touches the ceiling (I'm 6ft) Other than that, nothing so far!
Is there anything you forgot to bring and didn't have in your Van once you started Vanlife?
Not yet, once we're done I'm sure there will be things we wished we'd done differently.
What do you work at when on the road during Vanlife?
We both work remotely, as a software consultant and a UX Designer/Researcher, so we can take this on the road with us as long as we've got a decent internet connection!
Has Vanlife changed your life and if so how?
It hasn't yet, however, the build has been very very time consuming, juggling full-time work, building the van, and making time for each other is no easy feat. But we hope it's something that'll be very worthwhile!
What is the hardest or most frustrating thing about living on the road?
We're not sure yet, we will find out though! I think our biggest concern at the moment, is how COVID is going to affect our ability to live in the van and travel, we'll see!
What is one place you want to take your van that is still on the bucket list?
We really want to spend some time in Spain during the UK winter months, we'd also like to head over to Austria too, to get some winter sports in and see what it's like living in the van in snowy conditions!