Introduction - travels.of.heather

Hi.
We're Heather and Curtis. We've been living in our van for just over 2 years now with our cat, Raine. We met years ago while doing comedy in Toronto and fell in love with each other, and travelling over the coming years. After backpacking over 23 countries we knew it was time to make the lifestyle sustainable. We quit our jobs, started new careers that allow us to be nomadic, converted our van and have never been happier.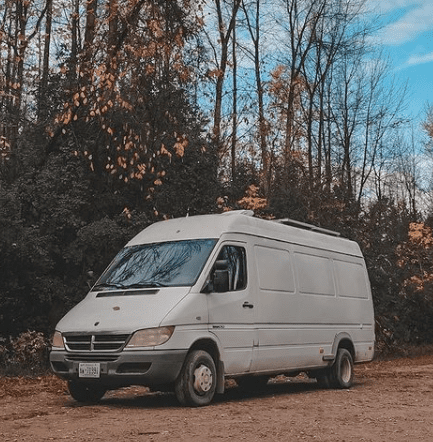 What van are you currently living in?
2006 High Top Extended Dodge Sprinter named Charlie.
How did you find your van and where did you buy it?
We found it on Kijiji near the city we lived in. We bought it from a step truck dealer that just happened to have this rusty sprinter.
Approximately how much did it cost to purchase?
Approximately how much did you spend building it out?
1st build-out: $10000 cad 2nd build-out: $3000.
Did you complete all the Van Build yourself?
Almost everything. We had some help with our electrical system and roof repairs as welding was needed. But we were a part of it all and did our second build on our own.
What was the most difficult part of the campervan conversion?
The steep seemingly insurmountable learning curve. We were constantly learning new things and never fully sure we were doing it right until we'd finished. lol
If you could change one thing about your van build what would it be?
We were lucky as we got the chance to change a lot in our second build, which we are just completing. We added a second work station and switched from a cassette toilet to a diy composting one. But we still wish we had a shower… not yet.
Is there anything you forgot to bring and didn't have in your Van once you started Vanlife?
We did well there, but we are always forgetting things when we take other vehicles or go places without the van. I've gotten into my mum's car before without any shoes because I figured I could just get them "from the back" when I got there. lol We get spoiled having everything with us.
What do you work at when on the road during Vanlife?
I, Heather, am a freelance graphic designer/printmaker and Curtis is a freelance writer/consultant. Plus we both are sort of content creators. Many fingers in many pies : )
Has Vanlife changed your life and if so how?
In too many ways to count. It allowed us the time to pursue our passions in creative careers. It made us far more aware of what we consume and what we have in our lives. IT really bring to light the importance of sustainable and mindful living.
What is the hardest or most frustrating thing about living on the road?
Doing dishes without any hot water. It just will never be fun.
What is something you expected to be difficult in Vanlife that actually turned out to be quite easy or not an issue?
Definitely finding places to park. It's surprisingly easy and only a few times have we had any real issues. We have never had to pay yet.
What would you do differently moving back into a house now than before the trip?
We both agree that we don't think we could/ would ever choose to live in a normal house again. We love tiny living and feel strongly about off-grid living too. So if we did move into something, it would most likely still be tiny and definitely sustainable.
What is one place you want to take your van that is still on the bucket list?
Easter Europe, down through the Balkans. We loved it there and it would be perfect for vanlife. But realistically, hopefully, Mexico next winter.
What is the best place you have visited in your Van and why?
Cape Breton Island on Canadas EastCoast is beautiful and wild. There are some amazing spots (on @ioverlander) that overlook the cliffs where you can whale watch.
What has been your best experience on the road so far?
All the unexpected things. The freedom of being able to choose each turn based on which way looks more fun. It's a surprise around every corner.
On average what is your weekly expense when "Van-Lifing"?
These days it's much different as Covid has kept us mostly stationary on the family property. Maybe $200 – 300 a week for 2 people, all things considered.
Has your diet changed since you've started Vanlife and describe a typical day of eating for you(s).
We made sure to put a good stove and oven in the van. Even though we are omnivores we follow a mostly plant-based diet in the van. It a good way to help reduce global meat consumption, super healthy and from a practical standpoint, it is very tricky to deal with animal fats in a grey water tank.
We love oatmeal and always start our day with a pot of coffee. Lunch is usually light, hummus, veggies, fruit, snacky type things. Then we love pastas, buddha bowl type things and pizza!!
Describe a typical day for you in Vanlife:
We usually have slow mornings where we let the cat out if it's nice enough and drink our coffee. Then if we can a hike or straight to a few hours of work. Then we'll usually move positions and maybe find something cool along the way to our night spot. Sometimes there's more work, sometimes another hike. We love playing cards or board games or chilling and watching Netflix.
Is there any one bit of advice you could offer to someone considering Vanlife?
There is no one right way to do this. It can be very intimidating and everyone else's van will look amazing and perfect. You will think you are not doing good enough. But before you know it you will be done, in your van living your life and you'll realize the quest for the perfect van isn't what matters. : )
Follow travels.of.heater and their Vanlife Journey on Instagram: