We chat to Liam and Candice who are full time Vanlifers with 2 kids travelling around Europe. In this article they go through the joys and challenges of Full Time Van Life with Children and offer their advice to anyone considering in taking the leap to Van Life!
What van are you currently living in?
How did you find your van and where did you buy it?
We found our van off Facebook and went and viewed it the same day in the pouring rain. We were so impatient to get it home that we made an offer straight away.
Approximately how much did it cost to purchase?
Approximately how much did you spend building it out?
Did you complete all the Van Build yourself?
Liam converted the entire van by himself, with friends helping out along the way. It's surprising how many people are willing to give up their Saturdays to help you make your dreams come true.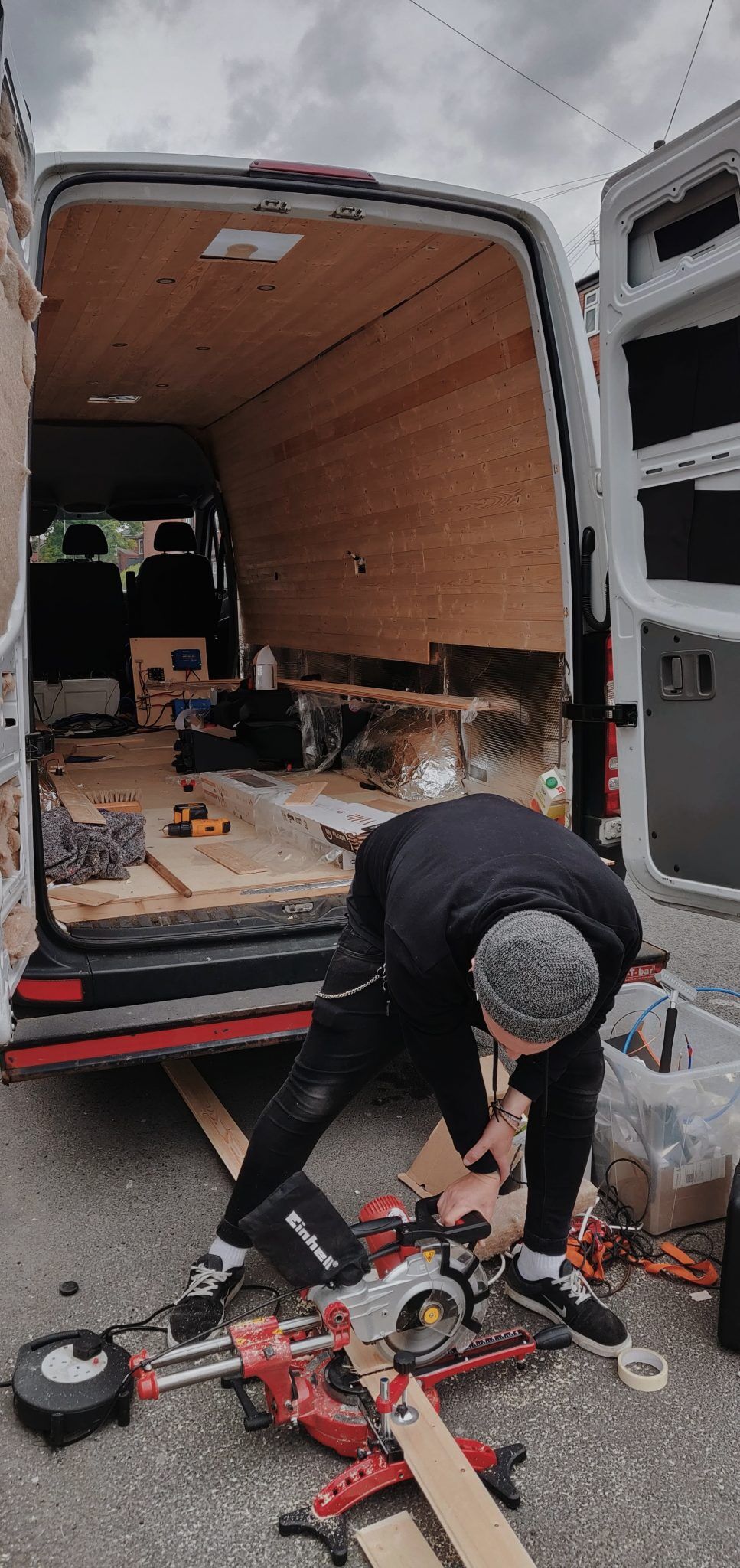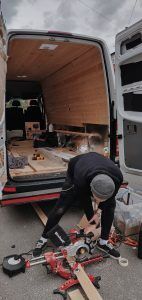 What was the most difficult part of the campervan conversion?
When you're first starting out, every aspect of the conversion feels new and scary. Cutting holes in the van for the windows and fans was pretty scary, but so was wiring all of the electrical. The biggest lesson we learned is that we can work anything out if we have enough faith in ourselves.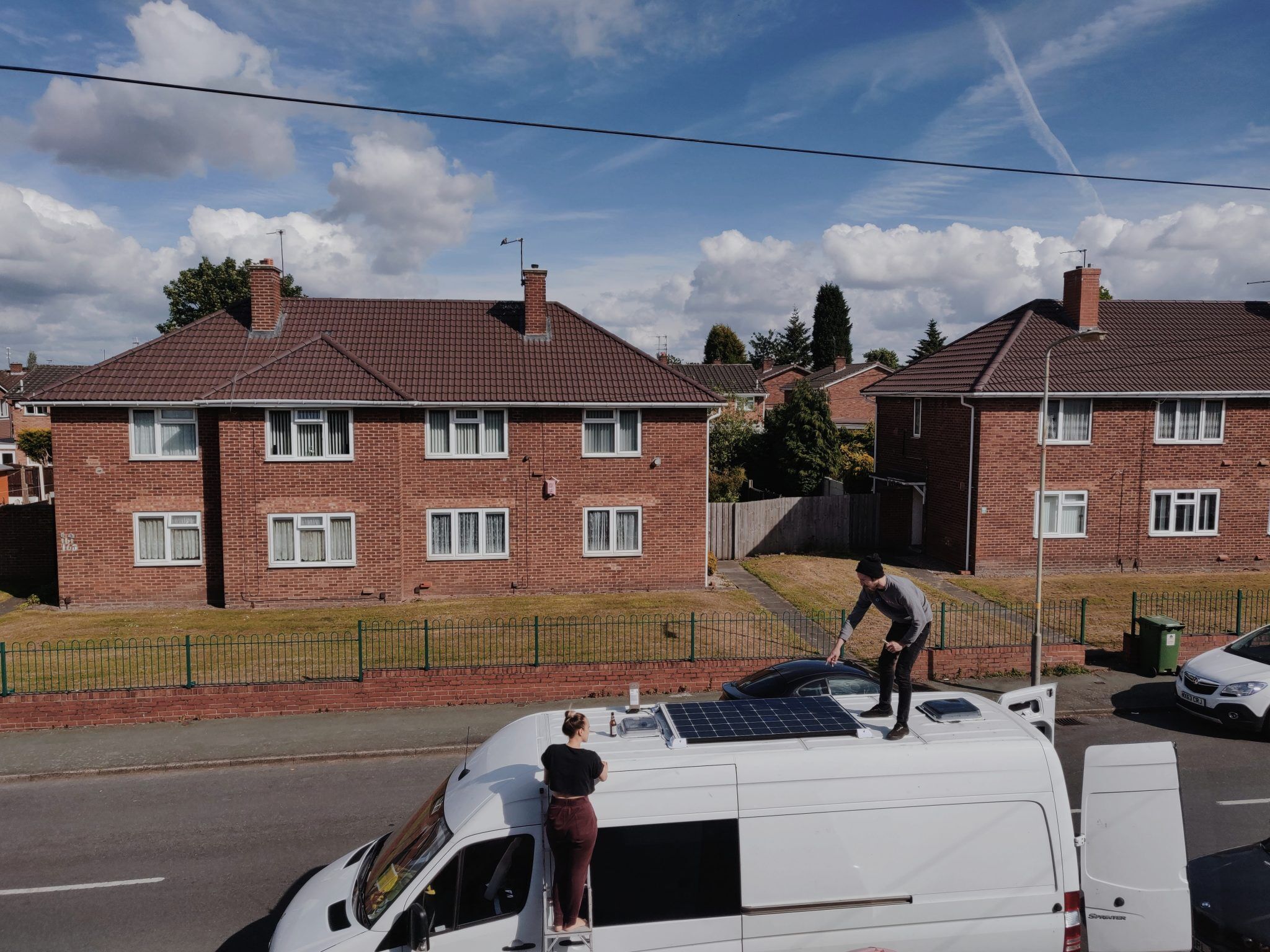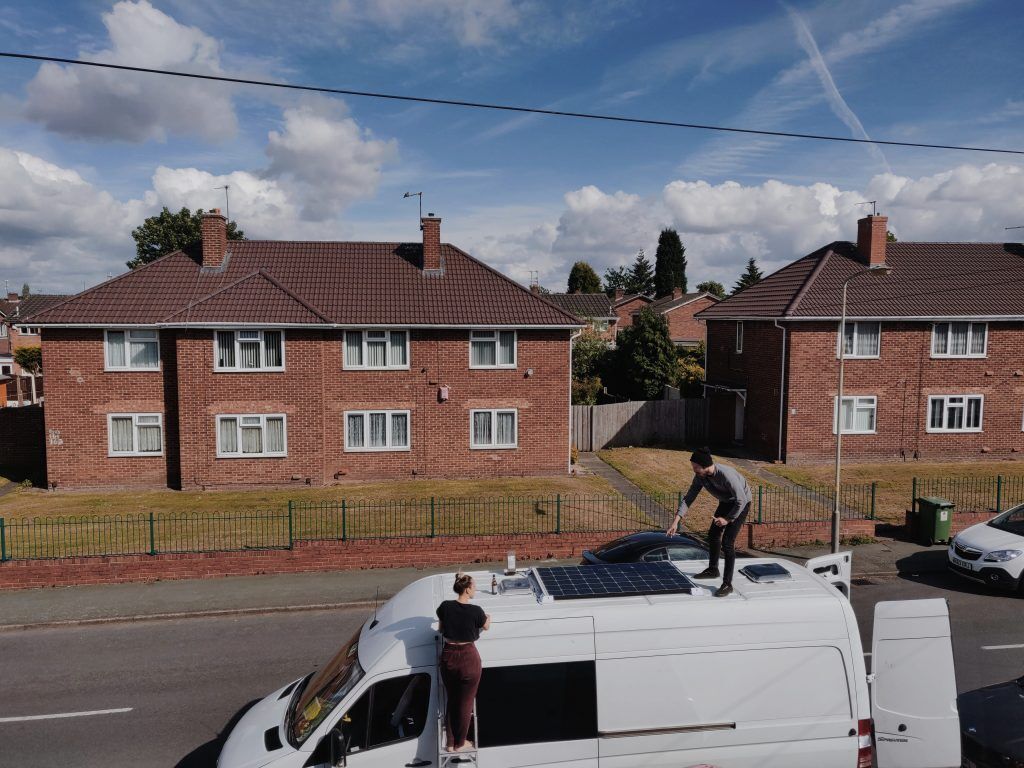 If you could change one thing about your van build what would it be?
Definitely having a fixed bed! Every van lifer will tell you this, but as newbs we totally ignored this advice and it only took us about a month in the van to regret that decision. We really wanted a multifunctional open space, but even though it takes less than two minutes to convert our couch into a bed we dread it every single time. To the point now where we rarely turn our bed into a couch at all anymore unless we have people coming around.
Is there anything you forgot to bring and didn't have in your Van once you started Vanlife?
So many things! And on top of that there are so many things you don't even know you need until you've actually moved into the van. But nothing really important, there were just lots of stops at Ikea the first couple of weeks living in the van though.
What do you work at when on the road during Vanlife?
I work as a freelance transcriber and captionist. It's really great because I get to choose the days I work and when. All I need is internet connection. The pay is pretty low but it keeps us on the road and that's all that matters.
Liam makes small sculptures that he sells online and at the moment we're working on a few other things to make us money in the future.
We don't make a lot of money and we didn't sell our house to move into the van so we have a pretty tight budget some weeks. But we have never been happier.
Has Vanlife changed your life and if so how?
When we first decided to live in a van with our kids no other families were doing it. The community was full of solo travellers or couples living on the road. And for a long time we questioned if this lifestyle was compatible with family life. 
In the end we decided to just go for it and we're so glad we did, there is no greater experience than getting to show your kids the world. And since then, so many families have started living this lifestyle, which has meant we've been able to connect with some incredible and inspiring families that share our values and outlook on life
What is the hardest or most frustrating thing about living on the road?
For us navigating full-time van life during a global pandemic has been a surreal experience. We've found that it has dictated a lot of the choices we've made about where to go and when. 
As I am Australian and Liam is English the same rules don't always apply to us when we're travelling to new countries that have restrictions in place. On top of that, things change almost daily so we're always checking for updates and can never plan anything too far in advance just in case things change unexpectedly.
What is something you expected to be difficult in Vanlife that actually turned out to be quite easy or not an issue?
We used to joke that we spent all of our savings converting the van and we didn't even know whether we'd like living in such a small space with two grown adults and two noisy kids.
But surprisingly we almost never feel cramped in the van. The space just works really well. We spend as much time outside as possible but even on rainy days we all fit comfortably inside for hours at a time without getting on top of one another. And to be honest, I love how cosy and intimate our home can feel with all of us in it.
What would you do differently moving back into a house now than before the trip?
We used to consider ourselves minimalists before we moved into the van. But we were shocked by how much we had when we had to condense all of our belongings into such a small space. It's surprising how little you actually need. I find we're much more deliberate about our purchases now and really ask ourselves what value is this going to bring to our every day lives. I think when the time comes to move into a house again we won't feel the need to fill it with useless stuff that fills rooms but never gets used. 
What is one place you want to take your van that is still on the bucket list?
Liam laughs at me because I want to go everywhere! But we talk about buying land and settling down once we've finished our travels. So I want to see as much as possible before that time comes. We met a couple on the road that were doing the old Hippy Trail and that really sparked something in me. I'd love to drive all the way from the UK to India and make our way through Asia to Australia. That would be the ultimate trip for me. 
What is the best place you have visited in your Van and why?
This is a hard question for us, because living in a  van it's so easily to fall in love with a place. We've loved so many places and for such different reasons so this question has a different answer every time someone asks us.
Our first trip was the Scottish Highlands and I swore nothing could ever top that experience. But we've found ourselves sad to say goodbye to so many places since then. We spent three weeks in Berlin and we loved being able to go get fresh pastries and coffee every morning and going to the playground every afternoon. Indie loves Croatia because there are so many friendly stray cats. Atlas's favourite place so far has been Budapest for the trams. So I guess it really depends on which family member you ask too.
What has been your best experience on the road so far?
When we first moved from Australia to the UK we bought an old estate and did a road trip through the Highlands. We spent a week sleeping in the back together and talking about our grand plans to travel the world in the dark. 
So of course the first place we wanted to take the van when we moved into it permanently was back through the Highlands. And it was such a profound moment, I remember this overwhelming feeling that we had accomplished our dreams. That in some ways our first trip to Scotland had planted the seed and here we were just a few years later with our dreams in full bloom. Liam ended up proposing on that trip too. So it's safe to say Scotland will always have a special spot in our hearts.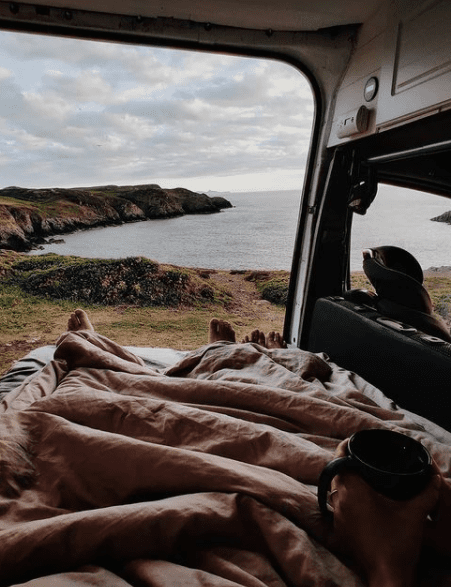 Has your diet changed since you've started Vanlife and describe a typical day of eating for you(s).
Before moving into the van we ate a fully organic and vegan diet. We mostly shopped at bulk or zero waste stores and tried to limit our waste. Everything was made from scratch at home.
We still try to stick to those values on the road but truthfully sometimes it's hard to find organic produce everywhere so we've had to make some compromises there. Unfortunately being waste free has been something we struggle a lot with in the van and although we try we do wish we could do better. But unless we're in a big city we're often reatricted in what's available.
A typical day starts off with our homemade yoghurt and topped with granola and fruit. We mix up mornings by alternating quinoa pancakes or our vegan omelettes stuffed with melted cheese. 
We usually do a green smoothie mid morning to boost our greens intake and lunch is either a light bean/chickpea salad or leftovers from the night before.
Our ultimate prize possession in the kitchen is our stovetop pressure cooker, so for dinner we have a lot of one pot meals. Alternating between curry, pasta, soups, casseroles etc. Our favourite one pot meal at the moment is Kitchari.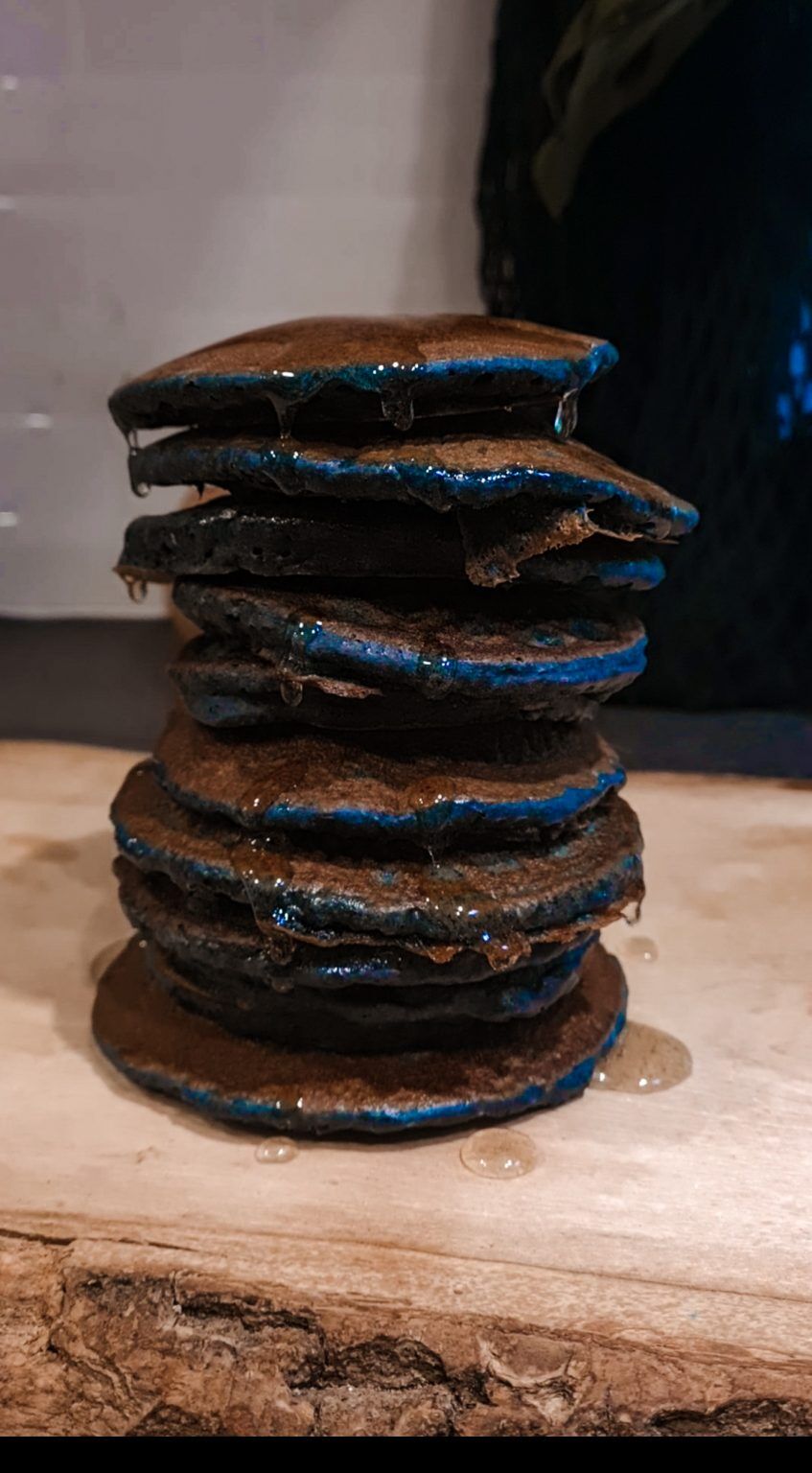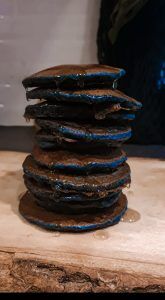 Describe a typical day for you in Vanlife:
 What we love about van life is that we get to travel the world with our kids but also offer them the security of home no matter where we end up. So regardless of where we are we try to stick to some routine. That means mornings are for homeschooling and walks and afternoons are for adventures.
Our kids are early risers and I have to be up early for work so most mornings start with cuddles in bed at 6am and then the kids play for a couple of hours while I work. After breakfast Liam does a bit of homeschooling with the kids before going for a walk and when they get back I'm usually finished for the day. We enjoy a smoothie while I make lunch and then usually head off for an adventure afterwards before coming back for dinner time.
Is there any one bit of advice you could offer to someone considering Vanlife?
We have so many people message us saying they want to do van life with their family but they can't and then list all these different reasons.
And all I say to them is that there will always be reasons not to do something but don't live in the "why not". Find your "why" and everything else will come together.
We got to where we are now because there was no other option in our minds, no matter how many hurdles we encountered we always held steadfast to our "why" and that helped us overcome all of our challenges along the way.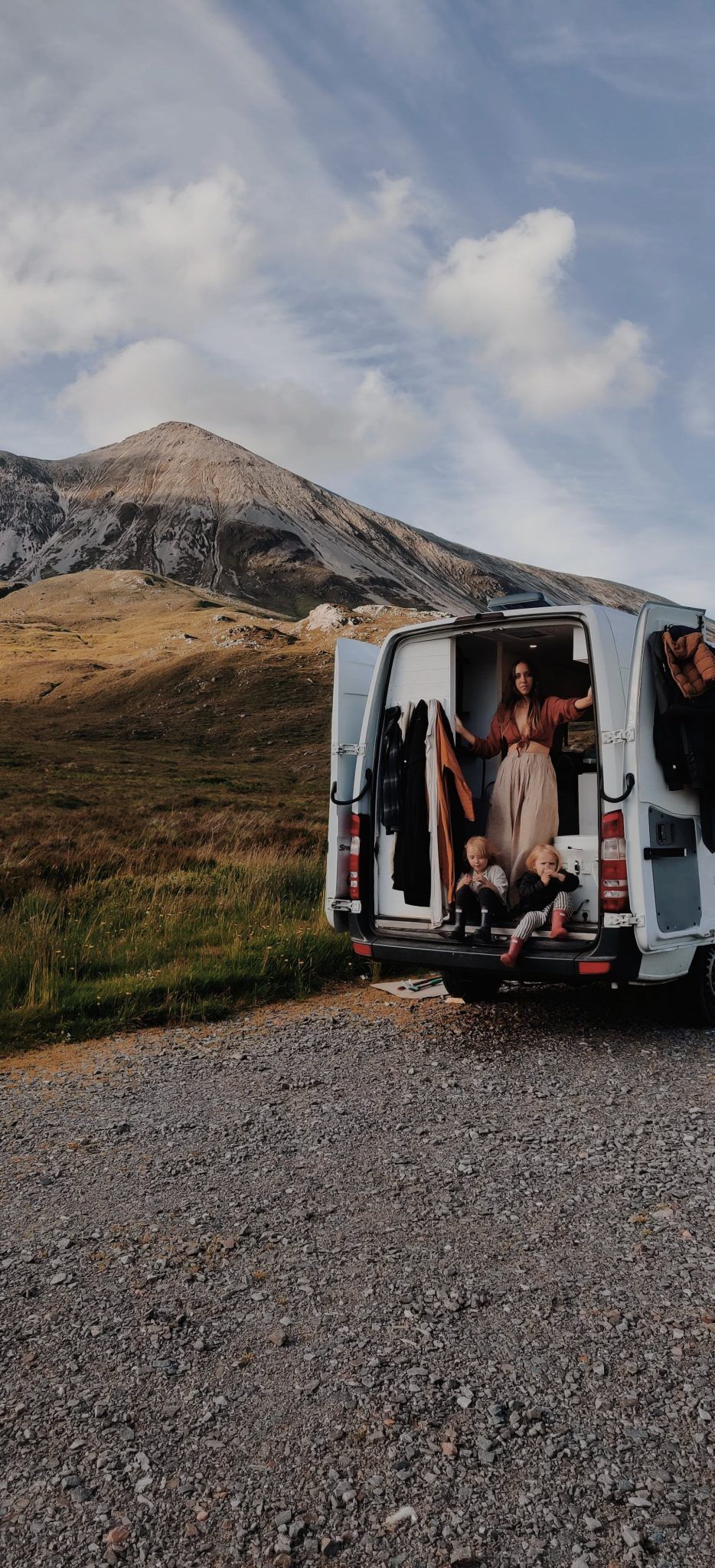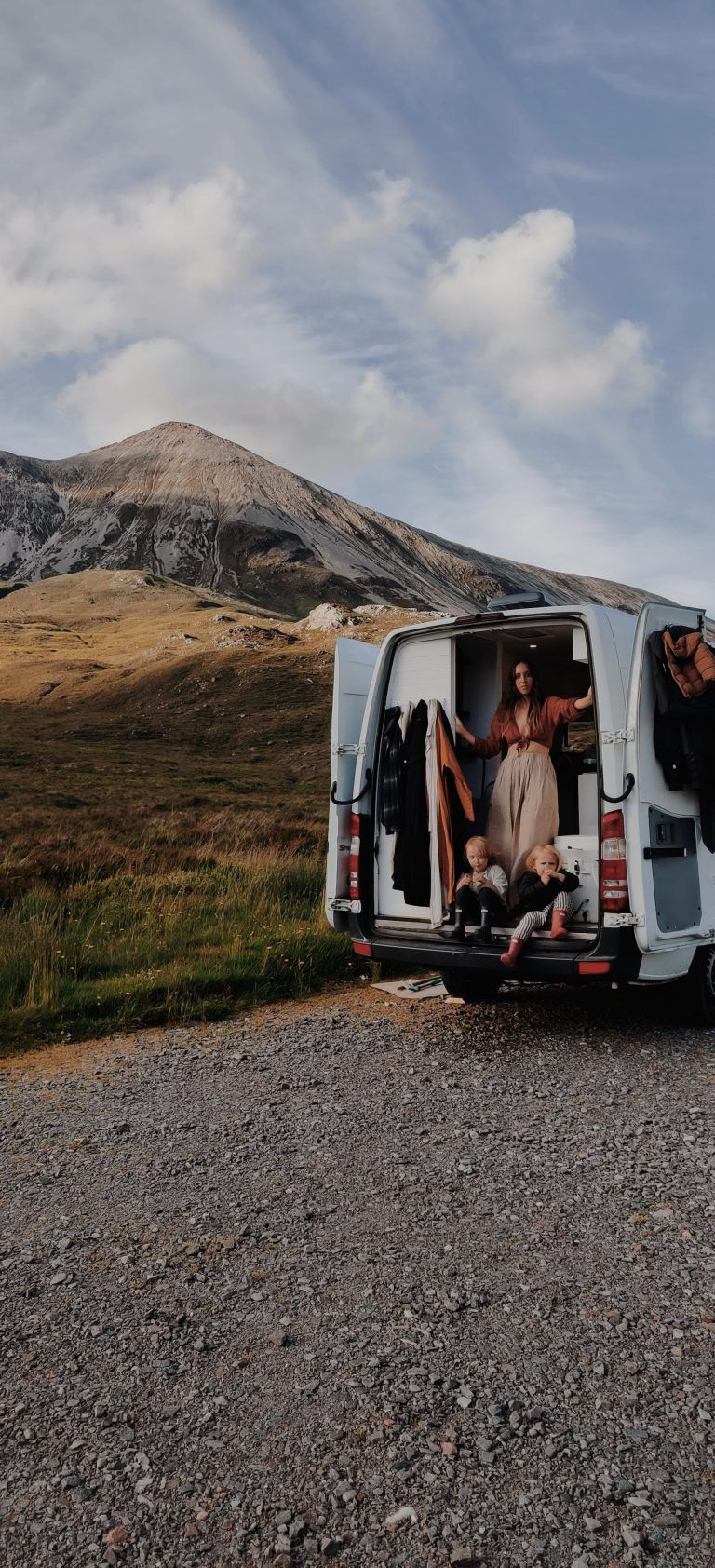 Follow "thisroaminghome" on Youtube to see their Journey unfold: